11-12 May 12
My first night
Dave has spent many a night at the earthship over the last two years while I've driven home to look after our animals. So when I had my first night there last Friday it was a real treat. Plus, we got lots of work done.
First, a friend helped us bring a load of reclaimed roof beams over in his trailer. Then I did more fibre glassing on the water tank lid and Dave and I planned how to finish the join between the dome and the greenhouse. On Saturday, our neighbour Pete came over to help us trim more wood for the geodesic, for safety we now have two people holding while one cuts. Still makes me cringe when I remember last October and our chase to the hospital.
All domed up..
This week we've had 3 volunteers with us, Christopher, Alicia and Ezequiel, for 2 days. Loads got done, the dome structure is finished (all bar the join between it and the greenhouse). Dave got so excited after putting in the final piece that he had to try hanging off it!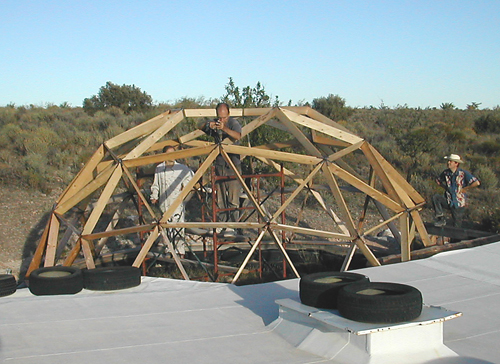 The third layer so close to being finished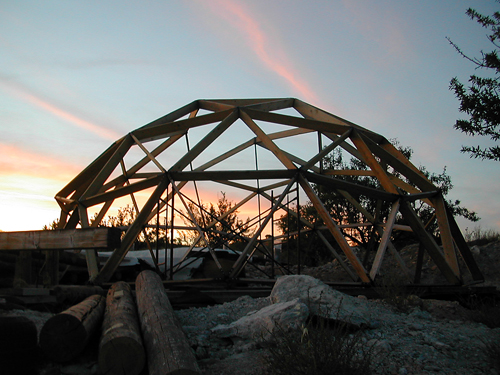 Sunset through the dome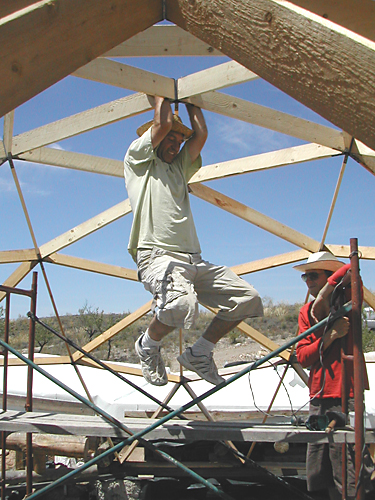 Dave hanging around
...chunked out
And of course, there was more chunking out done on the inside back and side walls. We also tidied up inside - moved the sofa and cairs around so we could access the side wall. It looks so different and is beginning to feel more like the home it will soon be.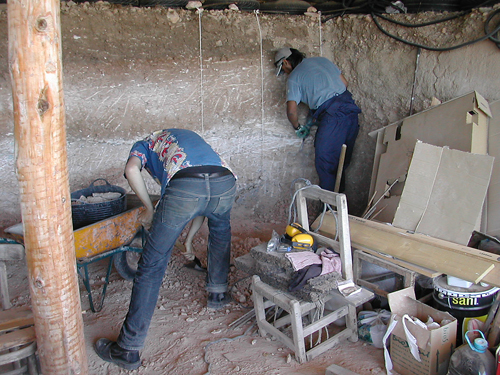 Christopher and Ezequiel work on the inside back wall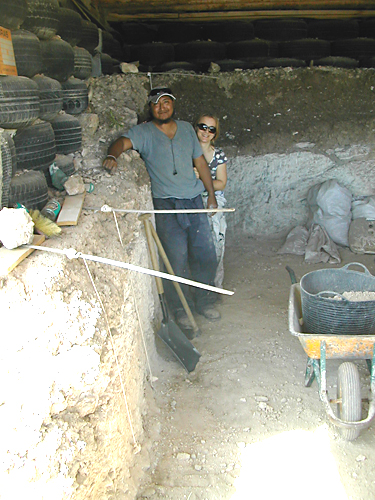 Alicia and Ezequiel work on the side wall
...and sealed in
At last I finished the fibre glass work on the tank lid, giving it a final layer of resin, and with help put it in place. We built up the gulley from the roof and collected rocks to act as the first stage filter. Our site has an abundance of quartz so we used these, I'm hoping they'll impart their lovely energy to help cleanse our water.

And of course, there's tyre work to be tried out. We wouldn't want anyone to leave without doing at least one tyre so it's lucky we still have an external wall that needs building up.

Thanks everyone, we're so chuffed with all that's been done recently. It's getting very exciting!


ae3