13-16 June 2013
Another 4 day stint
We enjoyed our 4 days over at the 'ship so much that we've done it again.
But before we could go I needed to do lots of preparing bottle bricks and shredding newspaper. We're almost at the end of our stash of bottles so may need to put another call out for supplies - drink up everyone!
I also did a spot of Photoshop building to get an idea of how to handle 'the bit above the doors' on the front entrance. Below is an idea that I'm developing. The bit on the right of the pic shows the rough ideas for the mosaic I'd like to do as well. There are lots of quartz rocks on the land in colours ranging from white through pink to deep orange - thought these would look lovely embedded into the walls.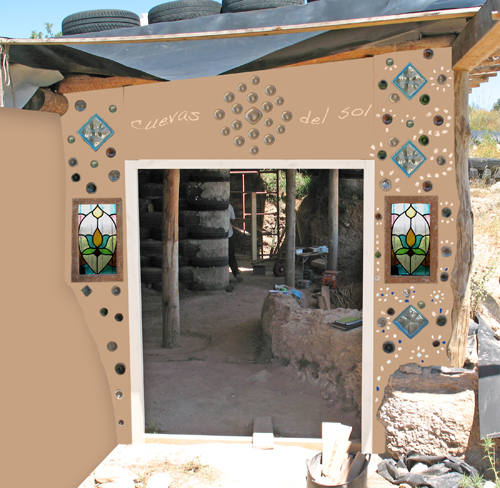 Shame the entrance is only finished in Photoshop
So, back to reality...
We started by roughing out the shape of the 1st stage planter which sits on the end of the kitchen sink unit.
Dave then put the plumbing in to connect this to the main planter and started the final leveling of the planter - a heavy job to do in the 35 degree temperatures we had this weekend. Summer has officially started and we're glad to be working inside.
| | |
| --- | --- |
| pipe to main planter dug in | almost deep enough |
By the end of the 4 days I'd built up the planter to one can below finished height (the EPDM liner will go in and lap over this level then the final can layer will seal and hide it). The greywater plumbing from the bathroom will run inside the connecting wall which also forms the back of the kitchen sink unit, well it will do when it's tall enough.
Btw, the bit of plant life sticking up is supporting the hot water pipe that will connect to the kitchen tap. We embedded it into the bathroom wall and it too runs along the inside of the connecting wall.
Dave also did more carpentry - this time getting the skylight hopper for the round room ready.
And I did some real work on the front face infill walls. I would've finished it if I'd remembered to bring the last glass brick.
This is an old wooden drawer that I picked up somewhere - probably by the side of the road as usual. It'll be a spice rack so Dave fitted it into the utility room wall facing out to where the cooker hob will be - our first kitchen cabinet fitted!
Dancing spiders and long noses
Last post I talked about all the critters that are currently enjoying living in the earthship. Here's a pic of the 'dancing spiders' that like to hide in the shadows and clump together to form furry moustache like blobs on the walls and, as pictured here, on the cement mixer. When you disturb them they bob up and down in an extraordinary little dance then scatter. The pic shows just a few of the hundreds that covered it, it took about 20 minutes to clear before we could use it.

The second pics show a long nosed cricket, when disturbed he 'flew' about 20 metres in one go.

ae9