2-3 Aug 2012
Variety is the spice of life...
...or so they say.
And we certainly did a variety of jobs over these two days. Some planned, some thrown in at the last minute.
I started with some bottle and can infill walling on the front face. It's an awkward little spot to get to but lots of fun to do. I was itching to see what the finished wall will look like so I also tried a finish coat on the square infill I did a few weeks ago - and I love it, especially the rounded edges. When it's dry and painted I think it'll look great. I did have a thought though, maybe I can add some mosaic tiles to it....hmmm?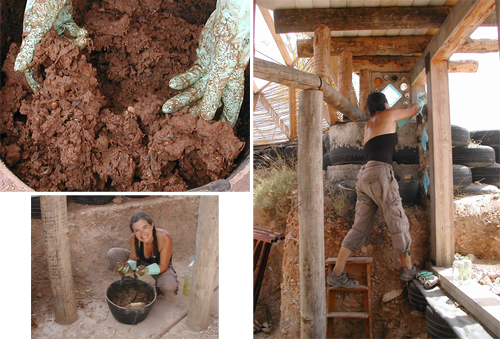 Top and bottom left: mixing the fidobe - lovely stuff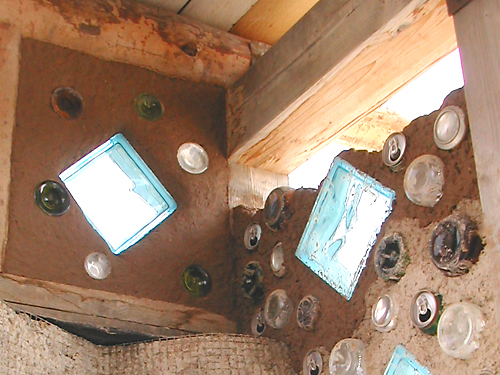 The finish coat on the square panel
Dave started by adjusting the footings for the utility room wall and placing the door frame, then cementing it in place. Much easier that way round than cementing then getting the door frame in like we did with the bathroom. You work and learn.

Who's that bearded man walking through our door frame - has Dave lost his razor? Actually it quite suits him, although it is getting a bit bushy now.
| | | |
| --- | --- | --- |
| | | Early evening, when things had cooled down a little, we went to cut a batch of cane for the morning. Stripping and peeling it is a nice job to finish the day on. |
I'm always surprised by the amount of dew we get some mornings. The air feels so dry here, but it obviously isn't. The pic on the left shows the dew on a formica table top. The pic on the right shows the dew running into our water tank. If this was sound-a-pic you'd be able to here it trickling in - a lovely sound in a semi-desert.

My morning job - caning! Dave thought he'd take some pics of the process, just so you can see why it takes so long. Each bend has to be measured then a notch cut in it so the cane bends easily round. Working with green cane is so much easier than the dried stuff as it does have a little give in it.

I threw in a little job for Dave to do while the morning was cool, but it turned into a big job that lasted most of the day - sorry.

It meant re-jigging the lower sand bag wall, sifting soil for a layer of rock free earth that the plastic lays on, covering the plastic with bitumen, then painting the bitumen. We've been meaning to sort this out for ages so it's lovely to get it almost done.

When I'd used up all the cane I started on the bathroom wall. I'm doing two layers of cans in cement onto the footings to start with. This is because they'll be partly inside the finished floor and as fidobe wicks water I wanted to have a waterproof layer in contact with the floor. The rest of the wall will be done using fidobe.

I used a string tied to the centre point to help me establish the curve and put rebar in to help tie the wall to the footings.

aea