29-30 Nov 2013
First snow of the winter
We've been dumped straight into winter missing out autumn altogether! Temperatures at night have dropped from a comfortable 15 degrees to minus 2 in the blink of an eye. But this sort of makes up for it... The highest mountain for miles has it's first snow of the season, how beautiful is that?
Anyway, back to all things earthshippy - we have approx. 80m2 of floor to finish and I don't know how many m2 of walls to do, so we got on with it.
The darker bit of flooring is the new bit, which has taken me 2 days to do, and that's with Dave sifting and mixing the mud, and doing rock hunts for me. Luckily I had knee pads to wear or I wouldn't have been able to stand up afterwards!
As well as being my skivvy, Dave also fitted most of the electrical socket backs into the walls and started filling in between the tyres of the round room.
I took a little break from floor work to build up more of the earthcliff on the section of wall in the living area.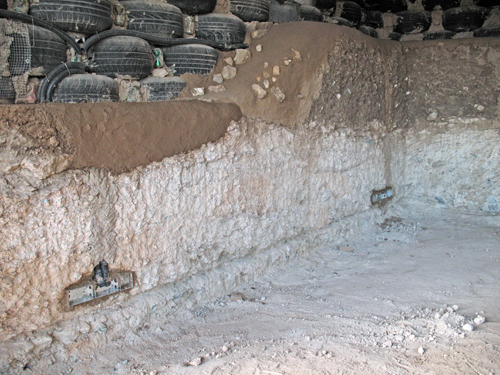 Electric socket backs and earthcliffs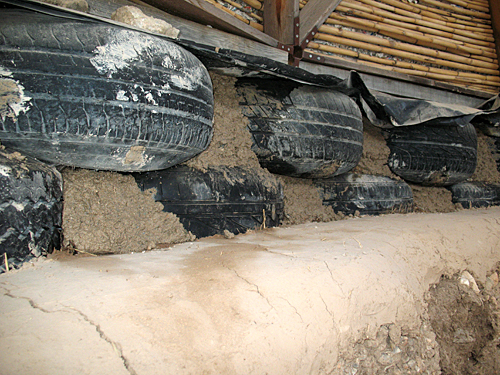 Filling in between the tyres
Mr Frosty

On Saturday morning we awoke to temps of 4C inside the caravan - brrrr!

Then went outside to see a beautiful frosty layer over everything, and temps of -2C - BRRRR!

So, on entering the earthship, it felt positively balmy at 15.1C - purrrr!

That's 15.1C without any heating and only cardboard in a couple of the windows.
Maybe we should start sleeping in the earthship now? Dave couldn't resist setting up this bed base that we wombled years ago, now all we need is a roll up mattress and a couple of old carpets to keep the dust at bay.

141f

---
Comments
Looks like the earthship has just proved its worth. No more car sleeping. LOL
joseph wessel
Ha, ha, so true - it's been bliss!
I've been following you guys since couple of years ago and i'll like to congratulate you guys for finally being able to use your earthship as a real home and sleep there. Just keep the good work, you are an inspiration for me! (would love to live someday in an eartship)
Caye
Thanks Caye, we're loving it, can't wait to move in properly. Maybe you can visit someday.
Add your comment