Adios my friends
September 2016
So we've just had the mother of all two weeks here in (what used to be) happy earthship land.
I won't say too much more, but we're shutting down the visitor and volunteer programme. Sorry to all you genuine kind hearts out there and all those who contacted us about coming in October. But we've just had two of the most upsetting experiences that have put us right off inviting strangers into our beautiful home.
"Emotional bullies are not welcome here, please leave your personal baggage at home" was what I should've put in bold letters on our volunteer page!
Still building, still living the simple life
We're still building earthship style and still living a simple life, looking after the local eco system as best we can. It's something we've enjoyed sharing, but we feel so bruised after our recent experiences that I can't even think about continuing with this blog.
Maybe in a few months we'll be back, maybe not.
So for now, we're saying goodbye
All you genuine earthship and geodesic dome builders out there we wish you the best of luck with your builds. You can still check out the wealth of info on this web site that we've shared during our build over the last 9 years.
You can also still get the "Get Started On Your Own Earthship" pdf booklet as well.
We may shut the site down soon though, or maybe make it private. Which is a shame, but that's what happens when uncaring, insensitive people take advantage - everyone loses out :-(
Getting peace in nature
So, enough for now. I need to go and cleanse the negative energy from our beautiful environment and take some well needed peace in nature.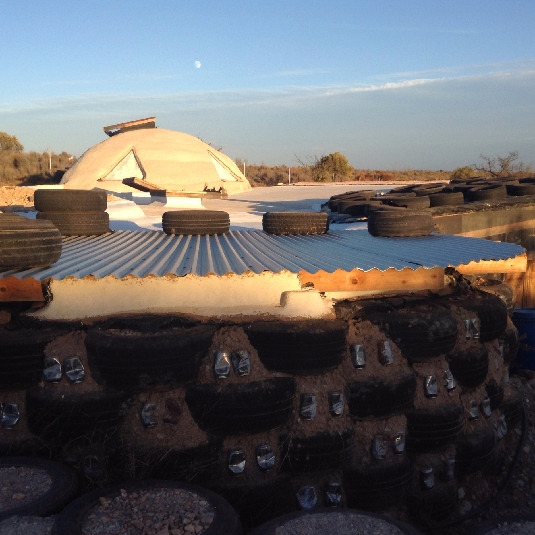 2898
---
Comments
So sorry this has happened! Excited to know what the next phase brings! xxx
Troy Roberts
Hi Troy, yeah, us too, but I'm actually feeling a sense of relief about stopping the blog, it'll be nice to concentrate all our efforts on getting things finished. It's surprising how much time doing the photos and writing for the blog takes. xx
so sorry to hear about thus guys. how upsetting. perhaps you will feel better after a break. but dont give up youre an inspiration ps have some smudge here if you need xx
denise
Thank you so much Denise. We certainly won't give up on the earthship, we just need to focus our energy inwards for a while and see where that takes us :-) Thanks for the offer of smudge, I'll see how the week pans out xx
It is inevitable that someone will eventually show up to ruin a beautiful thing. I am sorry that this has happened to you. And I don't blame you for wanting to "go dar" for a time. I do want to thank you fueling my dream and desire to build a home of my own. It is the simplest designs that seem to work better and seeing other peoples inspiration does work wonders in being creative. If you do leave for good you have my thanx for the time you shared. joe
joseph wessel
Hi Joseph, thank you for your kind words honey and we're so chuffed that maybe we've opened the door for you to achieve your dreams, that is exactly what this blog and the volunteer and visitor programme were all about. This isn't the first time we've had to deal with issues, which I guess is why we've decided enough is enough. Having said that the majority of volunteers have been absolutely lovely and contact with people like you has been so nice too. Do let us know if and when you start your own build. L xx
I am so sorry to hear this. You have done so much for the environment and helped do many people. Just relax now and enjoy your endeavours. Xx Judy
Judy
Thanks Judy, yes we're looking forward to it :-) L xx
So sorry to hear you guys have had people probs. Thought you had left all that behind on top of the hill
james
Hi James, naaa, wherever you get humans interacting I guess there's always potential for conflict. Especially when people are tired and out of their comfort zone, no pun intended! We've just had enough of dealing with it and don't want that bad energy around us. L xx
When I get my own project going I will let you know. You take care
joseph wessel
Fantastic Joseph, we look forward to it!
Thank you so very much for sharing your journey. Im an australian that has been following your build for several years and its been amazing to see the progress and your personality come out in the build and also the blog! It has been very entertaining and provided me with heaps of inspiration for my eventual build down under! Sorry to hear about the unfortunate circumstances and I sincerely hope to see some more blog posts and pictures in the future. Enjoy the peace and serenity for a while and reset. Sending lots of positive energy your way! Cheers from down under! Jamie
Jamie Miles
Hi Jamie, that's so kind, thank you! It's lovely to hear you've been inspired and entertained, and we'd love to hear when you start your build. L x
I love reading your blog. I've been following it for years and I truly hope this experience doesn't tarnish your future interactions in your little slice of paradise. I live in Oregon and I plan to build my own earthship someday and reading your blog was like a mirror of my own hopes and dreams as well as a window into your lives. Please take care of yourselves and if you get the itch to check back in renewed and inspired, I'll be waiting. Mikey xo
Mikey
Hi Mikey, you've made our day! It's been so lovely hearing about people who have been following and are inspired by our blog. And have plans to build earthships - yey! You're helping us feel that maybe in a few months we'll start again. Thank you xx
Just come across you site. I have long admired those who choose to build these wonderful organic homes. I have no idea what has happened to force you close this site I can only guess, there are some mindless fools that we have to share this world with! I'm probably too old to contemplate such a build (66) I'll make do with being a cave dweller. Keep the faith, all the best for the future. Alan Bell
Alan J Bell
Hi Alan. Ha, ha, you ain't kiddin! I'm intrigued to hear about your cave dwelling - which is basically how I see our earthship, a cave with a conservatory on the front! And many thanks for your kind words. I think it was the universe telling us to take a break. We've had such lovely feedback since this happened, it's renewed our faith in humanity a little. L x
Dear Laura and Dave, This blog is so beautiful, and full with art in so many ways, in my opinion the most pure of arts, which is the one our eyes can catch in nature. Don´t let evil get you, it is everywhere in so many forms, but so goodness, we can´t truly appreciate light without darkness, beauty is in our eyes, and happyness in our hearts, throw away what is not good, and sheer the beauty in life. Wish you all hapyness and freedom to live the lives decide to take
Marco
Thank you so much Marco, we really appreciate such lovely feedback. This Spring nature has truly blessed us with it's abundance and beauty. L x
Add your comment