Aug 2015
After a sweltering July we thought August would cool down, but it just kept on with the heat, then it got humid as well. We did have a few spots of rain, and I mean only a few. Just as I got all excited and ran outside to welcome it, it stopped! Our 2,000ltr water tank is the lowest it's been in years. Sorry all you folks in the uk who have had a wet and cold summer - but we really do need rain here, our trees are dying :-(
Despite the heat and plight of the trees and plants we've had a busy and fun August. So much has happened I don't know where to start - exhibitions, blind tastings, flamenco guitar concerts and kayaking, you'd think we wouldn't have time for work, but we did. Actually, now I'm writing this I can't believe how much we have done considering how hot it's been. Here's a little summary...
Earth cliff in porch
Finishing the corner of the earth cliff meant putting the conduit for the exterior electrics in the wall, which was Dave's job, I came along after and covered up all his hard work with mud! Once the mud was dry Dave ran the electric cable inside. I just need to lime wash the bottom half of the wall to stabilise the dust.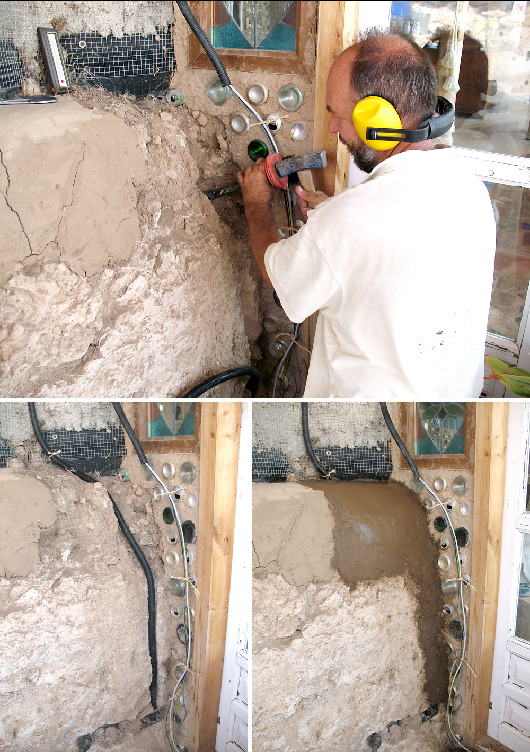 Hiding the electric cables
Agave and antique french light switches
I bought 6 of these antique French light switches on Ebay ages ago, always planning to use them in the earthship. Now we're a step closer.
To hide the electric cable coming down the front of the tyre wall I thought using half an agave branch would work nicely. If you cut them in half often they're hollow, and if not the centre wood is normally very soft so easy to remove to leave room for the cables.
Then I sunk the switches into the front slightly so they'd sit nicely.
I bought a second hand wood burner in June which I've been experimenting with, I might add some drawings of wild plants to the agave, can't decide yet - what d'you think?
Jeans, to shorts, to steering wheel cover
The heat and sun over the years has made our steering wheel degrade so out came my fabric stash and scissors. These are an old pair of jeans that I cut down to make shorts when they gave up at the knees.
I cut 30cm wide strips out of the leg ends. Sewed them together then wrapped them around the steering wheel. I tucked the ends in so it can easily be removed for washing, y voila! So much nicer to touch now.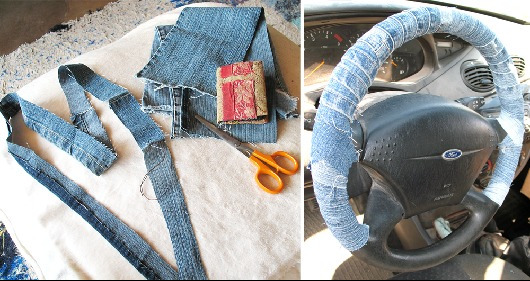 Steering wheel cover from old jeans
Chicken news
Sadly Ginny, our guinea pig gave up and passed away leaving Lenny our cockerel all on his lonesome. Ginny was about 6 years old, a good age for a GP so I'm told. But poor Lenny didn't know what to do with himself. So an emergency call was made to Josephine and Mel to see if they had any chicks they could spare.
I know chicks can be bought in the market and various other places around and about, but the conditions they're kept in make me wince, which is why we asked our friends. Mel (the birdman of Barranco as I call him) has an impressive collection of birds, from chickens to peacocks to lovebirds to finches. All are loving looked after - in fact Mel can quite often be caught raiding the fridge to source treats for his flock!
Yes they did have a couple of chicks who are now installed with the lonesome Lenny in our temporary chicken house. They're very shy so I haven't been able to get a good piccie of them, sorry.
The palm fronds were a find on a trip to Sorbas. Their palm trees were being trimmed... you can probably guess the rest. They add another layer of cooling.
Palette shed
Dave has been collecting pallettes from our local feed store. They're not free as they're a better class of palette so I'm told, they do look good and sturdy. Which is just as well when you see the size of the shed Dave's been making with them.
Just the roof beams to put on then he's ready to roof it. And we'll have somewhere to store all that stuff that I collect off the side of the road ;-)
Cat flap
Dave made this improvised cat flap out of scraps of wood.
Although Freya isn't allowed out after she nearly killed herself a few months ago. Ylangs doesn't want to go out and Charlie can't see or hear enough to be safe out on his own. So it's just Mocca and Tizz that do the rounds in the mornings. Although the past 2 weekends we've heard gun shots - hunting season must've started again - which brings hungry dogs and men with guns, so no cats are using that flap for a while.
Heat kills wheelbarrow tyre
We knew it was struggling when a bulging lump appeared in this tyre, but did we give it a rest? Nope. So one day as we were discussing something or other of obvious importance a huge BANG! made us hit the deck - well those hunters do wander a bit close sometimes - anyhoo, nothing that dramatic, only this poor tyre exploding. Quite an impressive demise.
Ending on a high note
Ok, I think that's enough to be going on with today, lunch is calling.

But before I go, check out this YouTube vid for some seriously impressive spanish flamenco guitar playing by two brothers - Leo de Aurora and Jerónimo Maya.

Leo played at my Bugs 'n' Blossoms exhibition presentation night. So when we heard him and his brother were going to be playing at Aku Aku in Mojacar we immediately booked a table. They've been holidaying in Mojacar this summer so I feel very privileged to have had Leo turn up unexpectedly and play at my expo and then to enjoy this evening listening to both of these hugely talented (and very sweet and gorgeous) brothers has been the perfect end to our summer. You'll find more (better sounding) vids of these two on YouTube, they come from a long line of flamenco stars from Madrid and are very sought after in Spain. How lucky are we!!

More about our summer adventures next time :-)

1154

Add your comment