Earthship Living
At last, on 5th September 2014 we moved into our earthship - yey!

Since then we've been settling into actually living in it.

Below is a summary of our living area and utilities.

See our blog for pictures and comments about our day to day life in the earthship.
The Basics
We have just over 80m2 of living area, all on one level.
The main living and kitchen area is an open plan space of 35m2. This is sectioned off into a kitchen and seating/office area by a kitchen island and planter. There are also 2 small rooms to the back. One is a semi-circular bathroom, the other a utility room.
The bathroom has a flushing toilet that will take cleaned grey water from the yet to be finished planters for it's flush. At present the water comes directly from our outside water tank. The black water from the toilet goes to a septic tank outside.
There is also a sink unit and there will be a shower (plans yet to be finalised). Both the sink and sink unit are reclaimed.
The utility room at present is a pantry space, with two shelving units and a mini chest freezer. It is also the central point where the electricity enters the earthship. Eventually it will also house an insulated water tank to store the hot water from solar panels. This whole hot water system is yet to be installed. At present our hot water comes from a kettle!
The kitchen area is made up of a large vintage 1930s dining room sideboard. We bought this from a local auction house for about €35, yes I know, ridiculous isn't it?! The rest of the kitchen is a mix of a plastic patio table, an ex-restaurant wood table (rescued from the bins) and a butchers block bought 2nd hand from friends. This mix is just temporary I hasten to add, one day we'll get around to replacing the two tables with a sink and cupboard unit. And the butcher's block will be replaced by a purpose built cupboard to house saucepans with a gas hob on top.
The bedroom is in the 25m2 round room. Dave has a small temporary office area in here too.
The remaining 20m2 is the front greenhouse/passive solar heat generator. This is mainly planter and walkway, with room for a little dining table. We don't eat at this table though as the cats have commandeered it as a perfect place to snooze in the sun!
| | |
| --- | --- |
| Seating and office area | 1930s sideboard great kitchen storage |
| | |
| --- | --- |
| Freya likes the bedroom | Beautiful sunsets |
Utilities
Electricity comes from solar panels and is stored in batteries. The batteries are capable of storing 12kwh of electricity. We estimate our maximum use per day to be 4kwh, therefore our system should give us enough electricity to last 3 days in cloudy weather.
Although we estimated 4kwh per day, we've only been using about 2kwh per day so far. We run lights, tv, internet, phones and computers on this daily. Plus we use a microwave and halogen oven occasionally.
For cooking we have a hob that uses bottled gas. I've also been experimenting with raw food recipes which require a blender, grinder and food processor, all these run fine on our solar electricity.
Water is collected on the roof and channelled into a 2,000ltr water tank. We're in the process of building an 11,000ltr tank. At present this water only runs through a first stage rock filter so we only use it for washing and flushing the toilet. When the big tank is working we'll instal a reverse osmosis filter to clean the water enough for all household use.
Currently we use filtered water from our old house for cooking and drinking.
We have yet to instal taps and sinks. Our water system at present is bottles and bowls!
Heating is purely passive solar stored in the mud/stone floor and tyre walls.
So far this winter has been very sunny, even so outside temperatures can be quite cold, sometimes as low as 6C in the day down to -2C at night.
Inside the earthship daytime temperatures on sunny days regularly reach 25C. This cools overnight to 19C by early morning. With a run of a few cloudy days daytime temps can be around 20C, cooling to 17C by morning.
We do still have some finishing to do on the skylights and front doors which we hope will help retain the heat even more.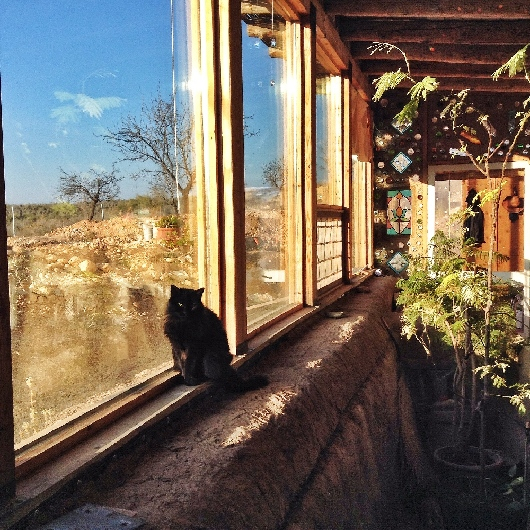 Passive solar heat collector aka greenhouse and cat seat

19a2

---
Comments
Congratulations to your beutiful home. Planning to build an Earthship Close to Saliente Alto. Love Anders
Anders
Thank you Anders and good luck with your build, keep in touch xx
Love your earthship
Veronica Monteith
Thank you Veronica, so do we!!
Truely Inspirational. Most I like is "Greenhouse Kitchen" as I have also build same at our farm house. But yours is well arranged and syiaemttsc one. The most attractive point is BIG WINDOWS both on sidewall and on ceiling too. Thanks for sharing this. I get to renovate by placing such types of window. according to this.
Tun
Hi Tun, yes the windows are one of the best features of the earthship, allowing us to enjoy the outside while we're inside.
Hy Laura I saw and red in your web site... It is very pleasant and structured to read. I didn't miss anything, because you share so many info from your own experience... You did a lot of work in the Materia as in the virtual sharing... Impressive! Your booklet gives me also answers to my questions. So that I am really about to conclude that it is quite a hard stuff to build legaly an earthship... Anyway I find the idea and concretion of such friendlyhousing very positive and worth to be shared as you do. But at the moment, we are trying (me and my friend) to find a (normal) house with land in South Andalucia... Thank you very much for your Help Bénédicte
Jauze
Thank you Bénédicte. I don't think it's any harder to get permission to build an earthship than it is any other casa, especially now we've opened the doors by getting approval for ours. Our approval consisted of technical drawings by architects to get the concept and structure approved - including the geodesic dome. In theory this only has to be done once, so as the structure has been approved for ours there's no reason it shouldn't be for anyone elses. The main issue is finding land that is allowed to be built on.
Add your comment