Olive oil production winter 2017-18
To pick or not to pick
This has been the question most years when harvests have been sparse. But not this year. Our trees are full (or as full as we've ever seen them) so pick we must!
Using rakes we gently comb the branches so the olives fall into nets placed around their base. It's a much nicer process than the bashing we have to do to pick the almonds. Although our naturalistic approach to land management i.e. no ploughing, does mean putting the nets out is a tricky job.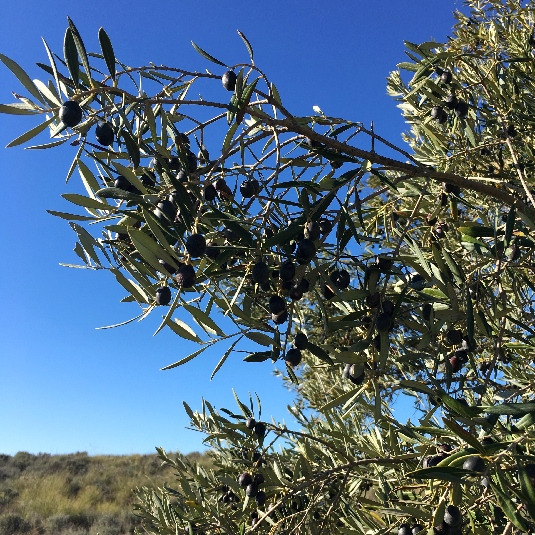 Branches full of olives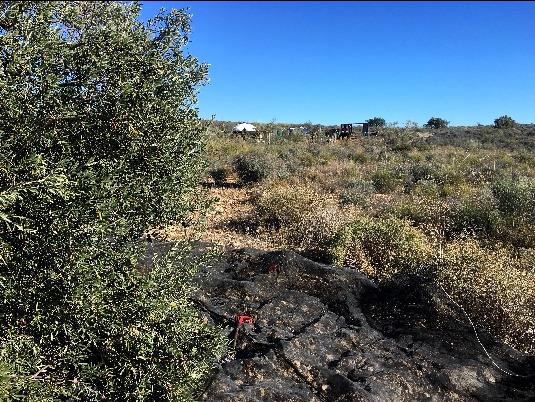 On a sunny day it's not a bad view from work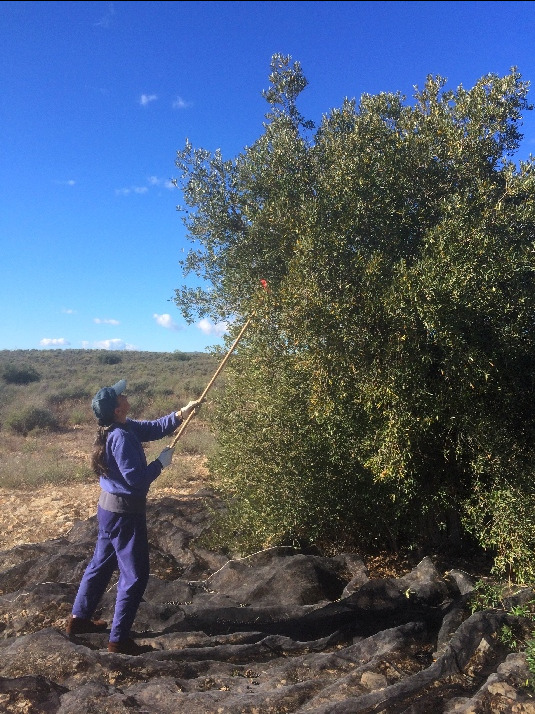 A gentle combing and olives flick everywhere!
What a haul
A wheelbarrow full plus two crates from two trees, and that was just the lower branches. It took most of the day to pick them though, I was picking on my own this day. We're leaving the hard to reach olives on the top branches for the birds.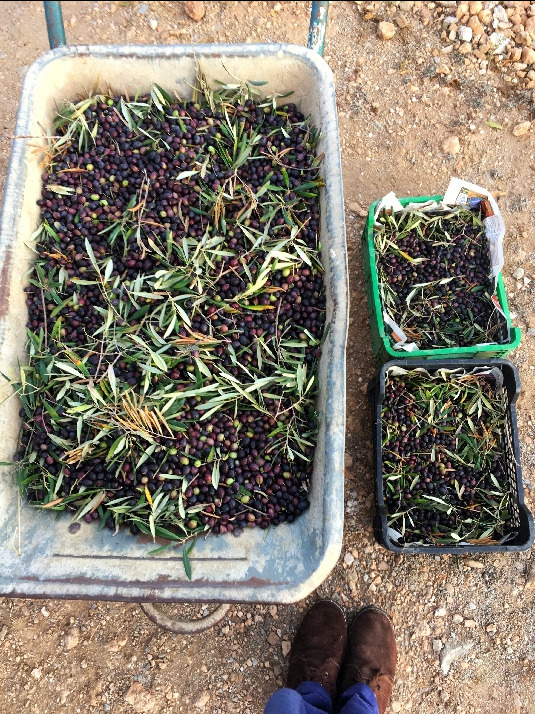 The colours are so gorgeous
To the factory
Over a few days we picked the lower branches of 5 trees.
At the factory these were dropped down a shute onto a conveyor belt that took them past a blower - to blow all the leaves away. Although we'd already picked out most of the leaves as the sheep love 'em.
Then a scoop randomly picked out a sample which was sent to the office. Here the sample was ground up and put into a machine to measure the oil content. Our first batch had an oil content of 30.3% which is apparently very good. A calculation is then done to determine how much oil can be extracted, this was 28.5% for ours as the mechanical process can't extract everything.
By this time the olives had been weighed (66 kilos) which meant that they could work out how much oil to give us.
We pay a small sum per kilo to get them processed, plus we paid to upgrade to the organic oil. Our olives are organic but we don't have certification.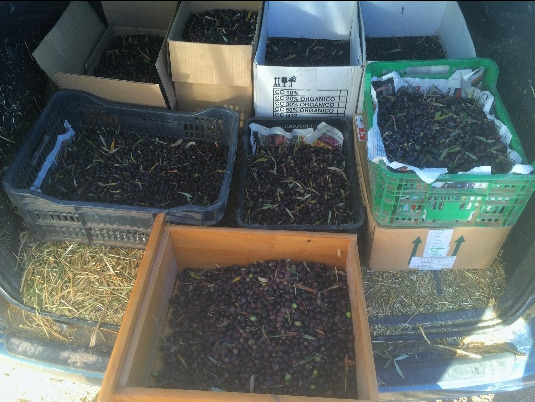 Using every container we could find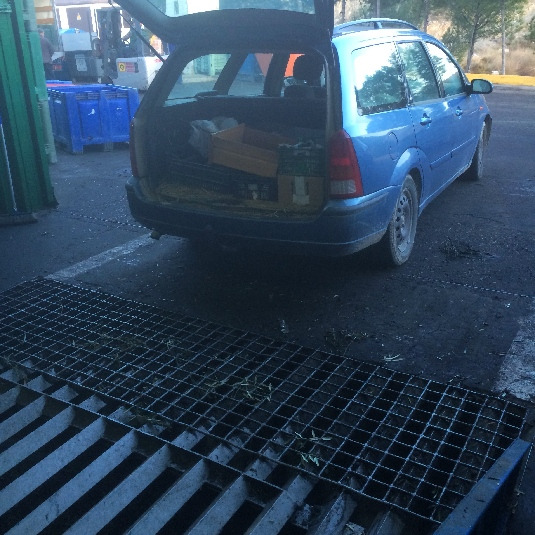 Down the shute they go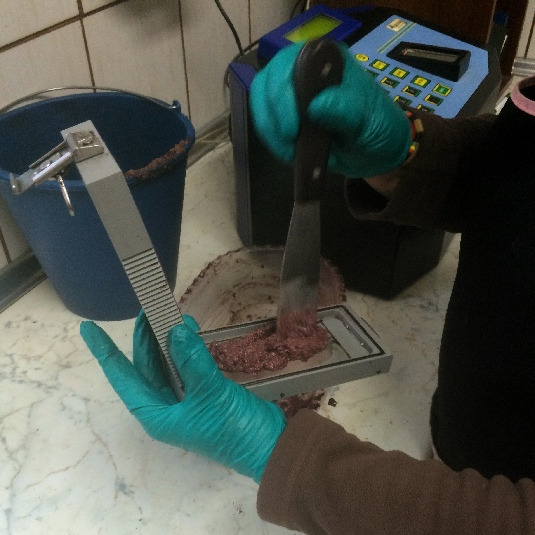 Ground up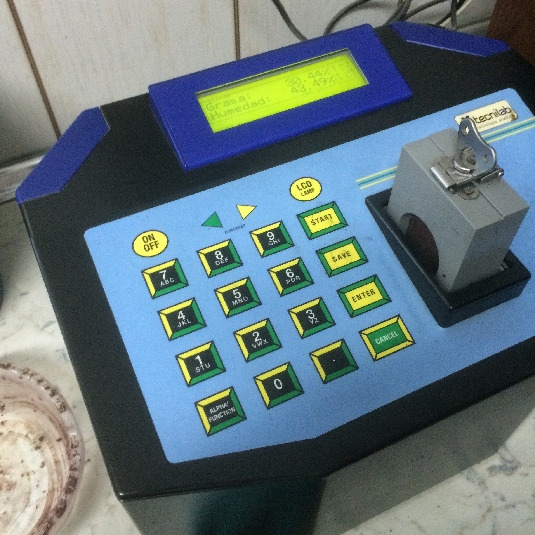 And in for analysis
The end result
Lubrin almazara has quite a good reputation. Their process creates a delicious extra virgin olive oil. They also allow an upgrade to organic oil. I don't think all the factories process in the same way or have the organic option.

As this was our first time going through this process we only took in a small batch. Our first 66 kilos of olives gave us 19 litres of oil. We still have quite a few trees to pick and maybe would've had enough to have a solo process for our own olives, giving us oil from our very own trees. But we would need to pick very quickly and somehow transport the 500 kilos (this is the minimum needed for a solo process) of olives to the factory in one go. Not sure our car (or we) are up to that yet!

We still have trees to pick which we'll hopefully do over the hols and into January. This will give us more oil than we need. If anyone is local and would like a 2 or 5 litre bottle of this delicious organic olive oil send a comment below and we'll see what we can arrange.

117b

Add your comment