A Christmas Wish
"My two fingers" said Dave...
You may have noticed the silence again on this site, total lack of activity. You may have thought all that filming got to our heads and we'd hot footed it to Hollywood. Nope!
There was an accident with a bench saw involving 3 of Dave's fingers. There was a rush to hospital, a 2 1/2 hour operation, 2 days in hospital and weeks of hospital visits to dress and check them.
And after all that - Dave has his fingers for Christmas!
There was a time when it was looking doubtful, the surgeon ignored the EDs suggestion to amputate the index finger. Good man. It worked!
Below are a selection of photos I took during this process, look away if you're squeemish. The one I didn't take was when they were hanging off - I had other things on my mind.
It took until about the fourth week before we knew if the index finger would be ok.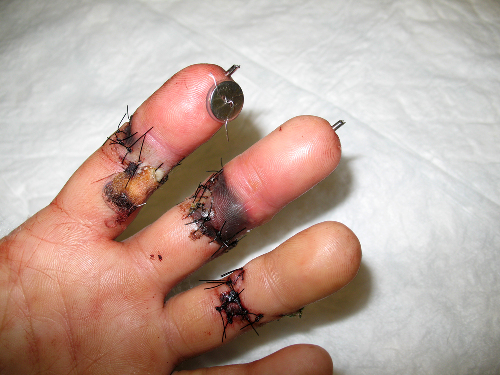 4th Nov - 5 days after op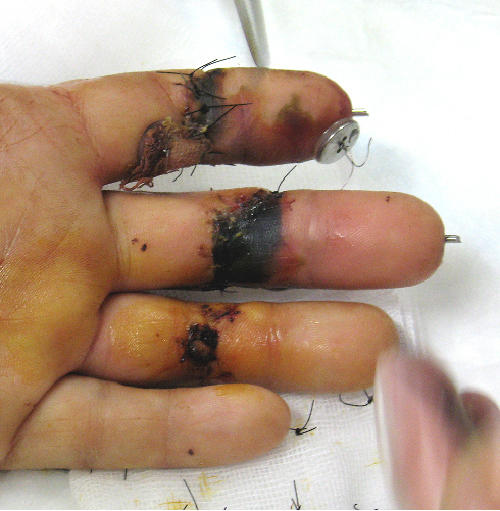 10th Nov - stitches being removed

16th Nov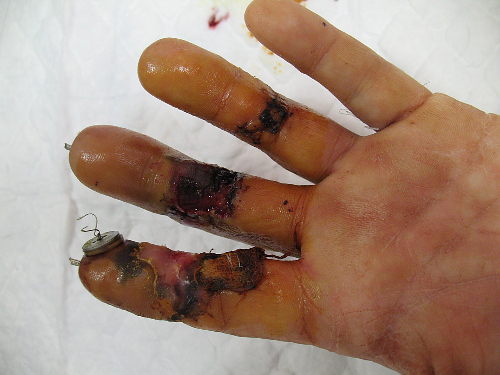 16th Nov - the nurse kept taking away the black bits
The button is attached to a wire that is holding the tendon in place. The metal sticking out of the ends are holding the bones in place. The index and middle finger were cut through the bone and tendons. The ring finger was cut down to, but not through, the bone.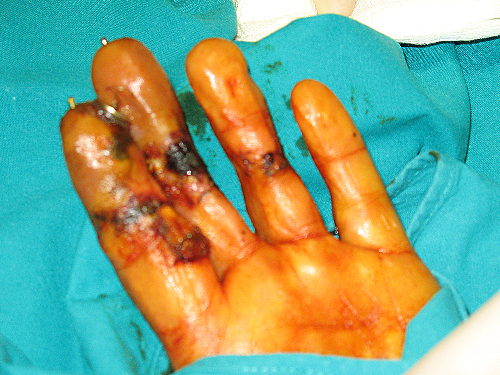 23rd Nov - button and wire removed today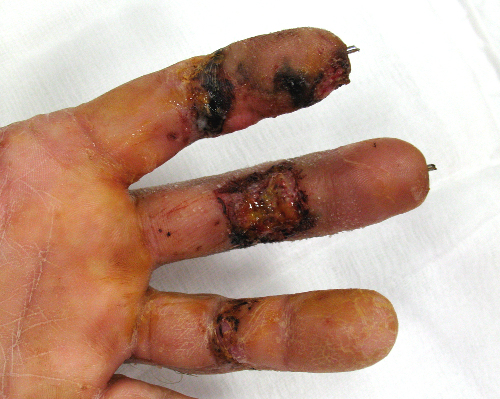 28th Nov - more picking off black bits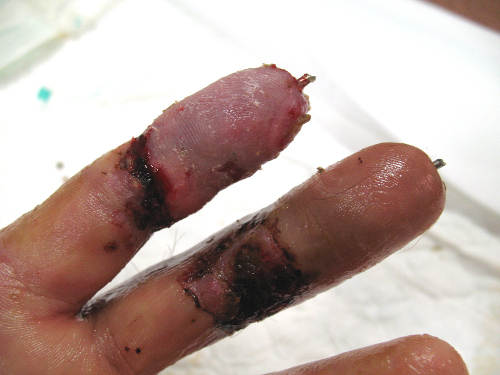 1st Dec - at last we think the index finger is saved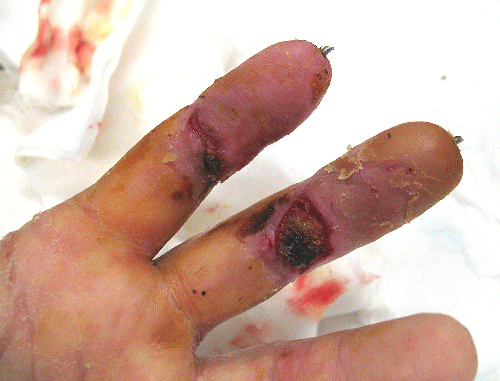 5th Dec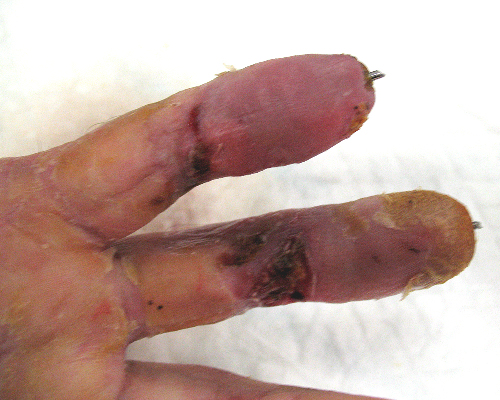 9th Dec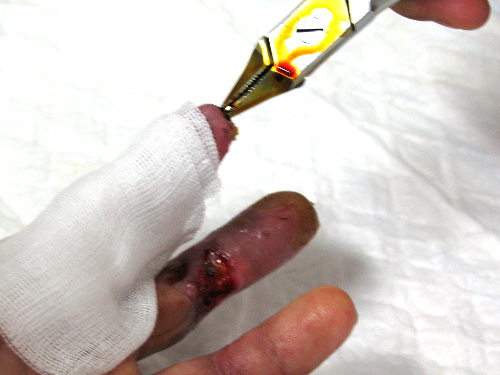 9th Dec - metal pins being removed eeeek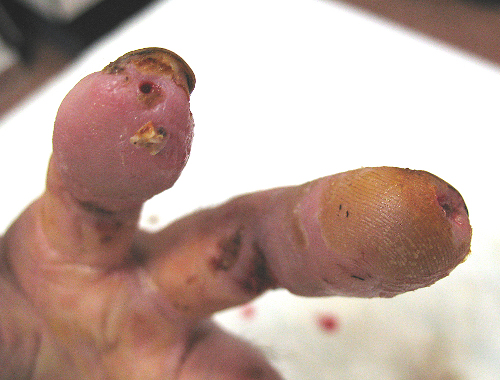 9th Dec - pin holes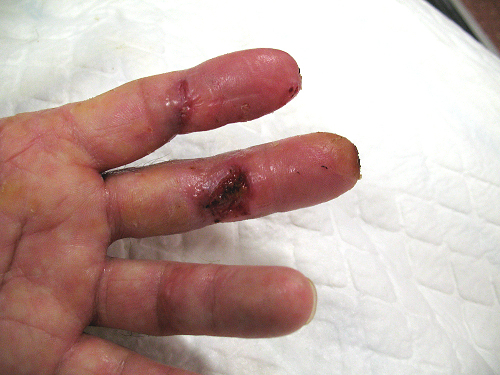 13 Dec - healing amazingly quickly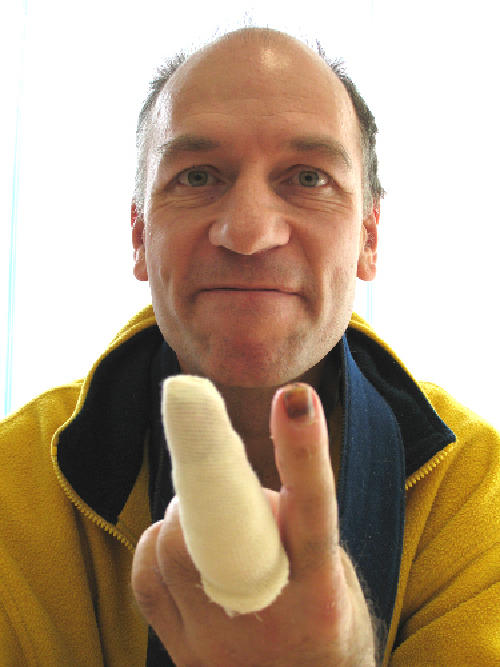 13 Dec - still have my fingers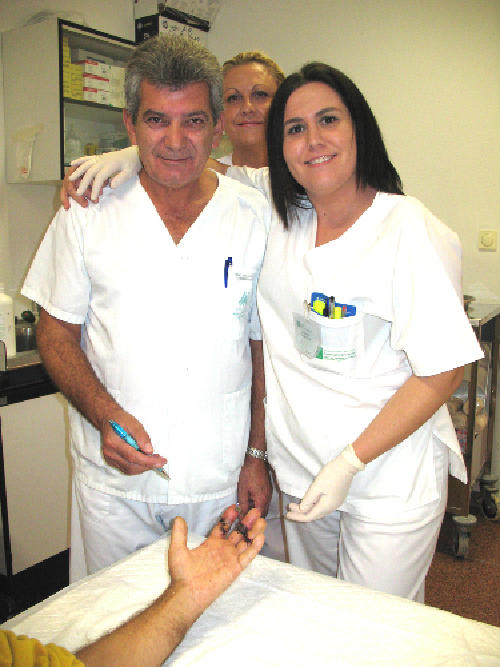 Dr Tapia with Nurses Conche and Loli
Huge thanks to the team at the hospital and to all our family and friends who sent Dave healing thoughts. Also a big thank you to our friend, a retired homoeopathic doctor, who has been supplementing the conventional treatment.
3rd September 2012
About 10 months after the accident here's a photo update: