May - Jun 2014
What happened to May and June this year? They seem to have passed in a flash. All of a sudden it's July and I haven't given you an update for over 2 months!
In brief, we've been busy bees and have had a few groups come from Sunseed to see and help. Lots of tyres thumped for the water tank, lots of dead vegetation cleared for the fire break, lots of soil sieved for wall and floor finishes, lots of floor oiling and wax sealing. Oh, and we've started putting in the electrical cables and sockets, although we were so busy doing I forgot to take photos.
So, below are a selection of pics I did take showing most of what we've been up to...
Sunseeders - Diego, Krister, Emil, Dave, Andreia, Celine and Reyna - thank you guys for your hard work and enthusiasm.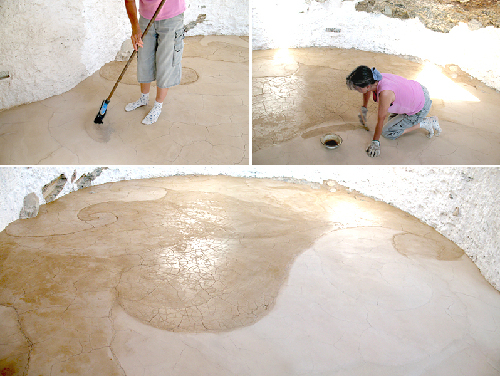 Oiling the round room floor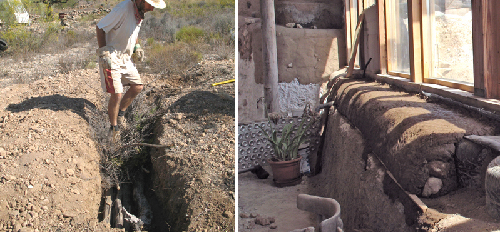 Digging in dry vegetation and front face infil
Big News!
After 8 years, a mountain of paperwork and lots of stages we finally have the permission to live in the earthship - wayhey!!!!
The photo shows us outside the Ayuntamiento (Town Hall) of Sorbas where the final paperwork was issued.
Another Sunseed group comes to help - thank you Andreia, Krister, Paqui, Joanne and Emil.
And another Sunseed group comes to help - thank you to Jenny, Vitalie, Merlin, Sebastian, Leandu, Andreia and Emil.
Mudding the living room floor. This was done with just mud mixed with water, whereas the round room and kitchen floors were done with mud, cal and water. Not sure which will be better, so we'll see.
After oiling the floor I'm now applying a couple of layers of floor wax as extra protection. The mud and cal mix needed less oiling than the mud alone, although I think I prefer the feel of the latter.
We'd like to say again a huge thank you to all the Sunseeders who came and helped during April, May and June. Now that the full heat of the summer months is upon us it's not possible to do tyre work during the day so no more visitors for a while. Don't worry though, there'll be lots to do in the autumn!