July 2016 final days of the month
Up before sunrise
So when the sun does rise we get a real treat...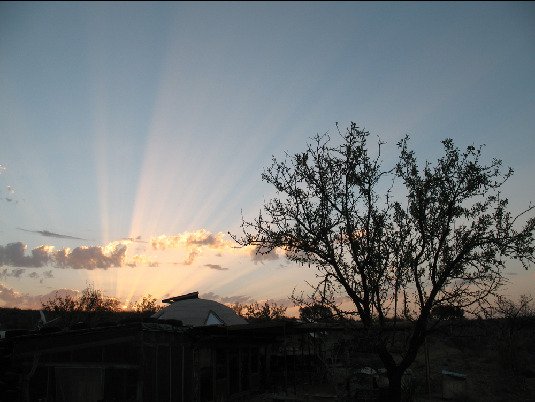 Beautiful sunrise over the geodesic dome
Water catch and first stage filter
It's been ages since I've made a video, so when I did this it felt like the very first time, me and my memory!
I thought it was a good way for you to see what we're working on.
Please leave some feedback in the comments section below, if they're not too rude I may start doing more videos!!!
Scorpion encounter
Isn't he cute? No? Ok, maybe not.
Dave came across him snoozing under the black plastic when he was re-arranging it. We don't see them often, and they're not aggressive, but this is why it's always good to wear gloves when working here coz ya never know. And a sting from one of these little fellas involves a trip to the hospital.
Caught in a jam jar, then transferred to a new hidey hole very far from where we're working and all is calm again.
| | | |
| --- | --- | --- |
| | | Scorpion - Buthus occidentalis |
---
Comments
hi Laura you did well. so good to see water collection in action. can you say what the polythene and tyres were for? or did I miss that. and what is the surface material. looks like its been a lot of work at any rateespecially in the heat. tc Denise x
denise
Hi Denise, thanks for your feedback. Yes I should've explained that this is still a work in progress. So the plastic will be covered with concrete. The tyres are just stopping it blowing away until we get it finished! I'll explain more in my next video, thanks again L xxx
My fiance and I are very interested in moving to Span, but are torn between building or buying. We are wondering, what it´s like to get permits etc. for building the Earthship way in Spain? Would love any and all info,since it would be our first! Anything to do?or to avoid? Just any info is worth a lot for us. Thank´s a million. P.S. I am Icelandic and my wife Mexican!Both are artist.
sverrir olafsson
Hi Sverrir A huge question! Have you read our Get Started Booklet? This gives masses of info about permits, how to find land and other stuff you might find useful. I wrote it because we get a lot of enquiries just like yours. Great that your wife is Mexican as I'm guessing she's a Spanish speaker. Dave's first language is Spanish which helped us no end when it came to getting permissions and dealing with architects. All the best, Laura
Loved your articula in the Costa Almeria News
John Bentley
Hi John Thank you so much! And thank you for taking the time to have a peak at our web site and leave a comment. There's a couple more articles coming over the next 2 weeks, hope you enjoy these too. All the best Laura. p.s. sign up to our mailing list to hear about visit or volunteer opportunities at our Earthship and snippets of other eco type news.
Add your comment