Welcome to our earthship home in Spain
If you've ever dreamed of building your own eco friendly home and breaking free from the rat race we're here to help and inspire you.
This blog contains a wealth of information and pics showing our earthship build - how we added a geodesic dome using papercrete and adobe, building a shed from pallettes, and many other eco friendly, some might say mad cap, ways of creating your dream home.
You can also learn about what it's like to live in an earthship, using solar power to cook, up-cycling pretty much everything and anything and learning how to live with the land in a permaculture kinda way. This is Low Impact Living at it's most creative.
CLOSED FOR VISITS - please don't ask as it's always hard to say no. And with hundreds of pages on this site packed with free info on our build you'll get a real feel for how it is to build your own earthship right here anyway.
GET THE BOOK - By popular request, we've published an E-booklet about our journey through the land purchase, Planning and Building Permission processes here in Andalucia, Spain.
JOIN THE NEWSLETTER keep up to date with news from the earthship, nature reserve and studio.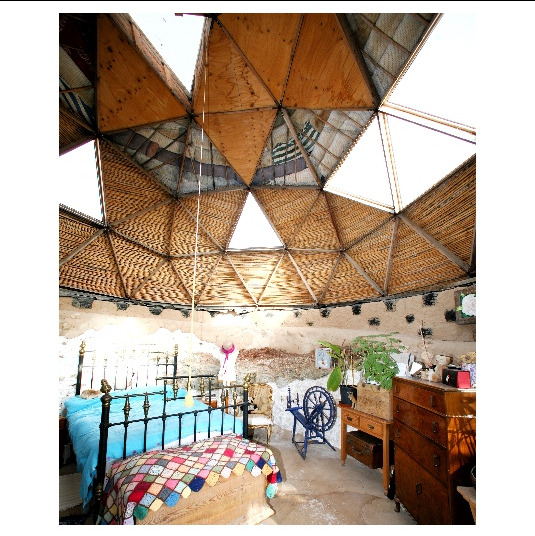 Inside the dome room
We started building an earthship in the Almeria Province of Andalucia, Spain in 2007. In September 2014 we eventually moved in, even though there's still lots to do to finish it.
This has been an epic journey for us which we've kept a record of here in our blog. There's information on how we built our earthship, what eco friendly materials we used and how we're living our life in the slow lane in southern Spain.
We'd love to inspire you to build your own eco friendly home simply because we believe this is a much more nourishing and happy way to live. It's also critical for this beautiful planet that we slow our lives down and learn to live with nature rather than apart from it, we think you'd love it too!
Take a short tour of our earthship below...
What is an earthship?
The idea of earthships comes from Michael Reynolds an American architect who has been developing these environmentally friendly dwellings for about 30 years. Check out his videos below.
Basically, it's a sustainable dwelling constructed from local and waste materials, such as old tyres and drink cans. It uses the theory of a cave house and the modern technology of greenhouses. We like to describe it as a cave house with a conservatory on the front - which is why we named ours Cuevas de Sol - Caves of Sun.
The tyre walls form the mass of the building which helps achieve a constant temperature, approx 16C, throughout the year. They hold the heat in winter and help cool the building in summer. Much as a cave house does.
The front of the building, which would face south in the Northern hemisphere, is glass fronted. This forms a greenhouse area where food can be grown and allows for solar heat and light gain. This solar gain can increase temperatures in the winter to a comfortable 20C without the need for fossil fuel heating. A welcome difference to a cave house.
The area in which we've chosen to build is renowned for it's cave houses. Let's hope this one will demonstrate how tradition and modern knowledge/technology can work together.
Water
Water from the sky is collected on the roof (or as run off from the land) and stored in tanks. The water is used four times: Firstly for washing and cooking, Secondly the now grey water is used to irrigate the in-house planters which somewhat filter and clean the water, thirdly the filtered water is used to flush the loo, finally the now black water is processed through a septic tank and used to irrigate outside areas.
Hot water
Water will be heated by vacuum tube solar panels and stored in an external tank. The taps, shower etc are located close to the tank avoiding the waste of cold water.
Electricity
Electricity is generated by Solar photovoltaic panels, the energy is stored in batteries. Power is delivered via a DC to AC inverter providing the standard 220-240 volts.