6-7 Oct 2012
A lesson learned
Well, Michael Reynolds does say in his books that as soon as you have the walls of the earthship built you need to terra-form to make sure the water is taken away from it asap. We thought we'd done this sufficiently, but the rains of the 28th Sep told us otherwise...
On our way to the earthship we wittnesed the destruction the rain, which was said to have led to the worst floods for 30 years in Southern Spain, had wrought to the roads of the area. We were diverted from our usual route more than once because main roads had been washed away and bridges collapsed. Edges of country roads had been eaten into leaving precipitous cliffs right up to the tarmac - in some cases taking bites out of the actual road as well. All along our route we saw the destruction and began to become more wary of what we might find.
At last we arrived and saw things out of place, at first we didn't quite understand the relevance, it was only after walking into the earthship that we realised what had happened.
Bottles, cans, all sorts of debris, was scattered about the place, strewn on the land in front and bunched in corners. A tide mark was left on the door frames - water as deep as 1.25m (just over 4ft) had amassed in the 'ship and flowed out of the front face!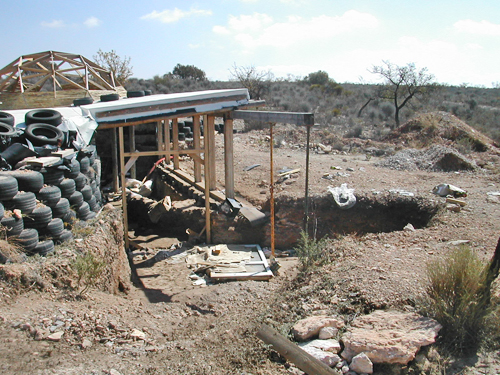 Arriving to things in strange places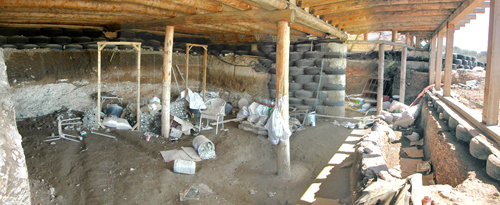 A layer of damp mud over everything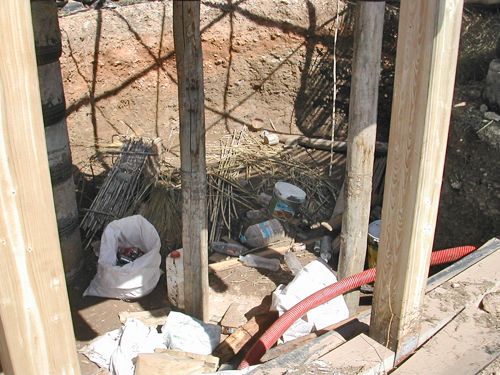 Paint cans and debris huddled in the round room
Luckily the water had all gone, leaving only damp earth. And the wood had dried out leaving no real sign it had been wet at all. We tried to imagine what it must've looked like a week ago - 100,000 litres of water inside the 'ship! That's twice the amount we hope to catch per year to live off! Sorry, lots of exclamation marks, but that's the only way I can convey how shocked we were.
After we calmed down a bit we started clearing up. My stores of bottles, bottle bricks, cans and newspaper were scattered everywhere. Paint cans and borax boxes floated to new resting places. But, amazingly, little damage had been done. The borax powder had floated in it's plastic box and remained dry and useable. The glazed front doors which had been waiting to be hung had floated all the way out of the entrance but had come to rest without breaking the glass. None of the many bottles had been broken. In light of what other people have suffered in the area, we consider ourselves very lucky indeed.
Ok, part of my beautiful can and bottle wall had collapsed, but not because it was unsound, only because something else fell very heavily onto it. The rest of the can/bottle walls had surprisingly stood up very well to being completely immersed in water.

It took us a good few hours to collect everything and tidy all the debris. Bags of rags and work gloves were laid out in the sun to dry. And we were constantly amazed at what had happened but also how little damage had actually been done. The structure of the earthship is still rock solid and nothing seems to have shifted or cracked, it's amazing when you think about it.
Terra-forming
As I was tidying I was also studying the paths left by the water. There were parts of our initial terra-forming that had become ineffectual due to lack of maintenance - an area behind that had collected vegetation so stopping the water moving away fast, another where a path had been worn into the swale by many feet and wheelbarrows passing, another that had increased water flow to the entrance by road creation. All these things added up to the water being able to enter the earthship instead of being directed away from it and into the fields below. A complacency created by living in a semi-desert!
So, we started work on re-establishing and strengthening our defences...
Firstly Dave cleared the mud from the front entrance using it to build two new swales above. When the entrance area is finished it'll have a roof and the floor will slope down and away from the door into a garden/drain away area.
And I cleared the back of the berm and reapportioned some of the soil to help with water flow. And while I was at it I created steps as well. There's still a bit of work to be done on the back, but we're hoping this is enough for now.
The pic below shows the flow of water which should now go straight onto the land below the earthship without going inside.


The west side showing entrance swales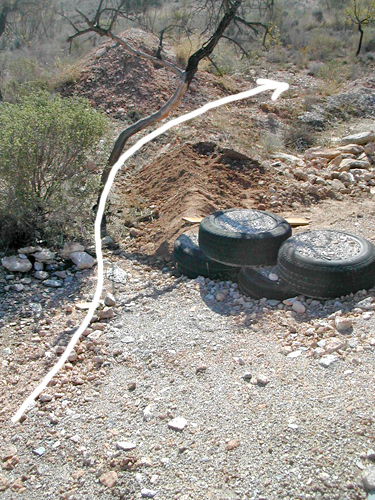 The east side showing repaired swale
Then, when all that was done, I finally had time to do some papier mache work on the dome. Can you believe that the papier mache we'd done before the rains had survived? It was one of the things I thought might have suffered, but there's been no damage to it at all!
We had planned to do caneing this weekend (and had cut the cane on the way here), but that didn't happen. Mañana...
And now for something completely different...
Do you fancy entering the WWF Christmas raffle for a chance to win £5,000 and the warm fuzzy feeling of helping a beautiful wild animal, the tiger? A ticket or ten might even be a good Christmas present for the friend who has everything or is impossible to buy for. Every purchase will help WWF fight the illegal trade in tiger parts, and at only £1 a ticket won't break the bank.
Click here to purchase your tickets...
(p.s. this isn't a marketing ploy, we get no cut if you make a purchase. This is purely to help WWF raise as much money as possible to help fight the illegal trade in tiger parts).