27-28 Oct 2012
Heartened by how well the papiermache held up to the rain we've been full on with it. And here's how it goes;
Strip...
First, tear the paper into 5mm strips. This job is best done in front of a good film with a glass of wine and a few cats to keep you company!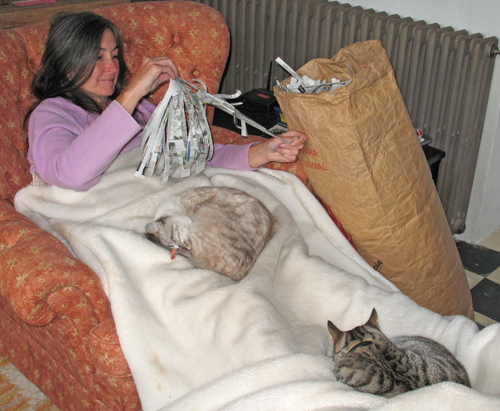 The cats enjoy a sleep while I fill yet another sack
...soak...
Soak it in a bucket of water for at least 3 days so it becomes soft and breaks down easily. The length of time depends on the quality of paper, and I'm not talking about the editorial. For instance, The Daily Telegraph becomes soft quicker than The Costa Almeria News - make of that what you will.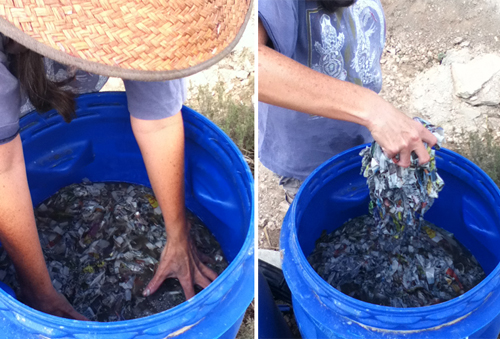 It takes at least three sacks to fill this bucket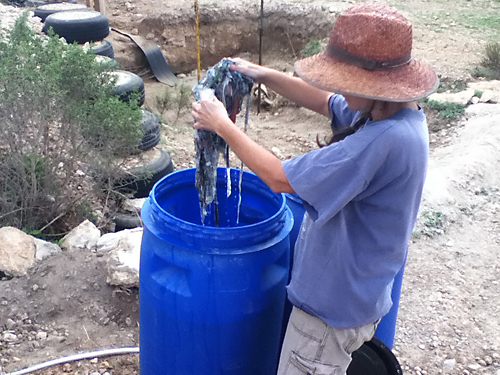 The torn strips naturally intertwine
...pancake...
Form it into dense 'pancakes' thicker in the middle than the edges squeezing out as much water as you can.
...and slap!
And the best part - slap it on, overlapping the edges so there are no gaps between the pancakes. Press the edges down to help them stick.
The result...
While I was busy slap-sticking Dave started preparing the top triangles with the chicken wire. He's put in triangles of cane for strength and to help keep it rigid when the weight of the papiermache and insulation is on it.