5-6 Apr 2013
On our way to the earthship we stopped in at the Almanzora Valley Garden Club for the once a month meeting. A very kind couple gave us 2 sacks of already shredded paper - marvelous!
Our first job on getting to the land was to put the paper in to soak. And then the rain started so we had lunch. Then went for an after lunch walk and found even more wild flowers we hadn't seen on the land before. Then it rained again, so we had a cup of tea. What with the rain and our tiredness we managed to do nothing else on the Friday, we certainly enjoyed the rest.
So, Saturday morning bright and early, my first job was to papiermache the cane (you remember most of it was blown off by the wind a few months ago). Strange the deja vu I had whilst doing it...again.
Then we put on more sacks.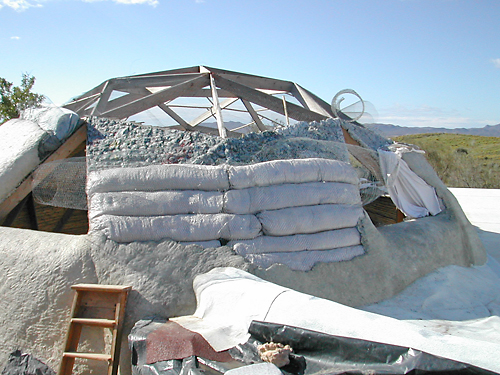 Papiermache back on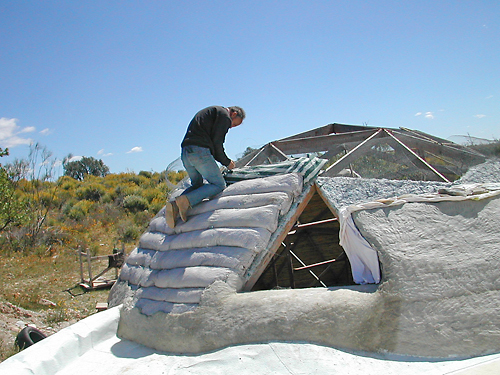 Dave tying the sacks in place
The last row of sacks is covered by some old sun lounger covers as where we stopped caning and have just used chicken wire we need to protect the sacks from the sun. I've bought some old curtain fabric from the APSA charity shop to make the sacks for the rest of the roof. It'll give me a chance to practise on the old treadle sewing machine I bought a couple of years ago.
And finally more papercrete.
We didn't finish until 7pm, then had the hour and a quarter drive home - that'll teach us for having a slow day yesterday!
Help protect the Arctic with Greenpeace
Sign the petition to join the millions who believe in protecting the Arctic. Greenpeace want to create a global sanctuary around the North Pole, and ban offshore drilling and destructive industry in the Arctic. They have nearly 3 million signatures so far and are trying to get 5 million, which would be great. But as there are 7 billion of us on this planet lets help them get even more than 5 million. Sign here and tell all your friends and family about it
Donate towards the new survival pod here