16-17 May 2013
BIG Celebrations!
Not only did we finish the outside of the dome this week, we also collected our Certificate of Building Permission from Sorbas Town Hall - YEHEY!!!!
The dome has taken 2 years and 2 fingers to roof - that includes the 6 months off because of Dave's accident with a bench saw - nearly cutting his fingers off whilst cutting the wood for the dome. We have done other jobs as well so it hasn't been a solid year and a half of one and two days a week, it just seems like it!
The Building Permission has taken a tad longer for one reason or another. I'll explain all in the update to the Get Started Booklet. All those who have kindly donated for this will get the update automatically, give me a few weeks to write it though.
I might be repeating myself, but this Building Permission is for the conversion from an agricultural building to a liveable home. We already had the building permission to start the work years ago.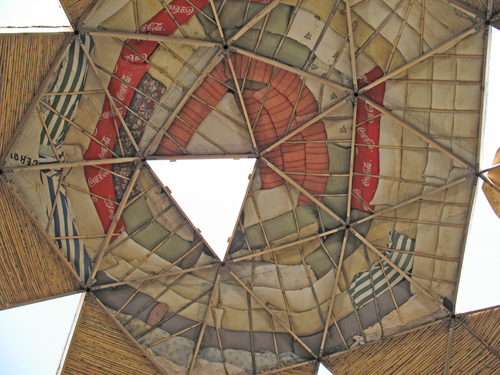 The remaining triangle will be the skylight
On to other things...
It was a bit weird but oh so nice getting back to other jobs.
First job was screwing in the wiggly woggly end column which we prepared months ago. Then I mixed up some cement to do the footings of the infill walls and some sloppy mud to build up the earthcliff.
Then I tidied up the bathroom wall ready to repair the damage done last September by the rains. And managed to do a few rows using left over papercrete and fidobe.