April 2015
April Showers April Flowers

The good news is that we've had a fair amount of rain recently. Since the beginning of the year we've had about 14cm, which is over half the estimated annual rainfall for this area (20 - 22cm). Thank goodness as the drought over the last few years has taken it's toll on some plants. Although one nice surprise was this bright pink wild gladiolus that seeded itself in the cactus bed - it smells divine and we can see it from inside, I can't take my eyes off it sometimes, ahem, anyway, eyes back to computer...


A bright pink colour pop in the cactus bed
The not so good news is that we still haven't finished our 10,000ltr water tank to catch all that lovely rain! We're getting there and did some more to it last week (I have blisters on blisters to show for it). Only 7 more tyres to go, then the can infill, then the waterproof plaster, then, oh you get the idea.
All fenced in
At last, we've finished the fencing!
Ya know, when we moved in last September I did a list of jobs that were urgent, with a rough schedule for finishing them. The fencing was scheduled to be finished last November - ha bloomin ha. And the water tank this March. In my defense, I've never done fencing before, but as for the tyre work I really ought to know better.
In honor of the fencing being finished we let Tiz out to go investigate. She made a bee-line for the roof, then checked out the battery house before sneaking into the wood pile. That's enough for today Tiz, I still need to block up any gaps in the fence made by the uneven ground.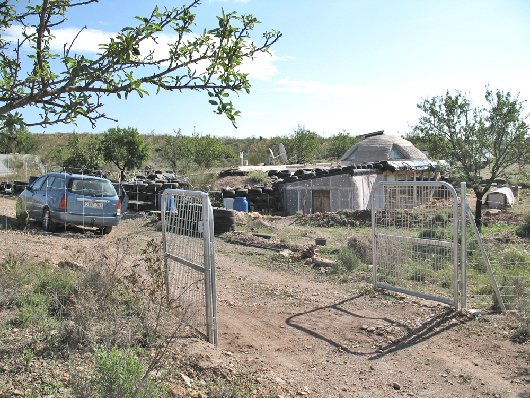 Functional gates in place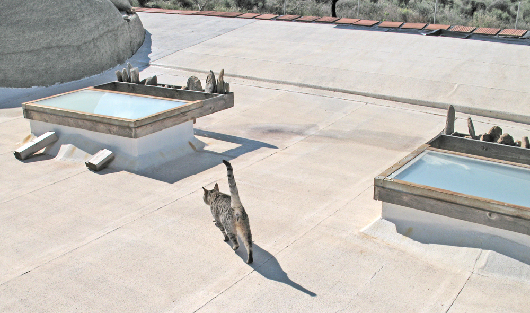 Tiz on the roof checking out the skylights
| | | |
| --- | --- | --- |
| While Dave was doing the finishing work on the gates I started to add mini swales to the downhill side of some of our struggling almond trees. We've lost about 5 over the last 2 years due to the drought - I'm determined not to lose anymore this year. | | |
Pallet shed
Whenever Dave goes into town he fills the car up with pallets from the local animal food stockist. At €4 per pallet we're going to be able to make a lovely big, and economical, shed to store all the wood we've acquired over the years.
Soft furnishing
I know that most of you out there are more interested in how we built the bones of the earthship, and I will get around to sorting the web site out at some point so it's easier for you to find things.
But with the exterior almost finished (and lots of rain stopping us working outside), I've been doing a few of the inside jobs that all go towards making it a comfy home - the soft furnishing bit.
True to form though, I don't take the easy way with this and simply pop off down to Ikea to buy new, I just can't help but renovate the old.
To this end I've taken 4 old square cushion covers, repaired and re-worked them. Added 2 plump feather inserts to make two soft and squidgy round chair cushions for our dining area. And no sooner was the last cushion finished than Ylangs had to try it out - she gives it the paws up I think!
I'm also in the process of working out how to tastefully fit these beautiful old cast iron candle sconces with super modern LED lights, watch this space.
These were donated by Maggie, our lovely neighbour who also donated the stained glass windows. She loves to go to auctions when back in the uk - we love her going to them too ;-)
10 minute sketches
Couldn't resist doing a couple of sketches of the gladiolus and the very pretty tassel hyacinths that are popping up all over the place.
Add your comment