Sep 2015
Last minute volunteer
As you know, we haven't really been open for volunteers this year but we couldn't turn down a request from Laurien, a Belgian interior design student. She contacted us in August in the hope we could give her 2 weeks of earthship work experience early September as her arrangements elsewhere had fallen through. She sounded so keen and committed with plans to travel to NZ to see/work on earthships next year, that we said come on down.
I thought she was going to fly here but she came by BlaBlacar.com - look 'em up, it's a car share hub for European travel - what a great idea!
Anyhoo, we've had a brilliant 2 weeks, a stack of jobs have been started if not finished, Laurien is even more in love with earthships if that's possible, and we're so happy to have met and helped her on her journey into earthship land. Read on to hear more...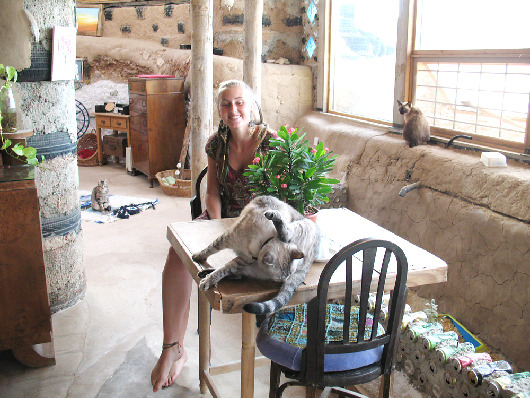 Laurien the cat lover, even ones who lick their bum!
And then the heavens opened...
So the end of a very long and hot summer and the arrival of a very energetic and keen volunteer - the first job had to be on the 10,000ltr water tank didn't it?!
The 1st and 2nd stage can infill was done in Spring so next was the final mud infill to bring everything up to tyre level. When we showed Laurien what to do she yelped, yes yelped, in delight at the first slap of mud hitting the wall! And that was it, we were off. Before we knew it we'd finished and then started to level the floor of the tank. This was harder work as all the soil and rock had to be lifted out. Dave had to get the heavy machinery in to do some parts which were literally rock.
We used the soil to build up around the sides of the tank so we could create a temporary water run-off for the porch roof.
All the while our 2,000ltr water tank was getting emptier and emptier. Thursday came and we'd finished the floor of the tank so created a makeshift roof to keep the forecast rain from washing away our hard work. But where's the rain? It was supposed to come that afternoon but after a few spits and spats stopped. Ho hum.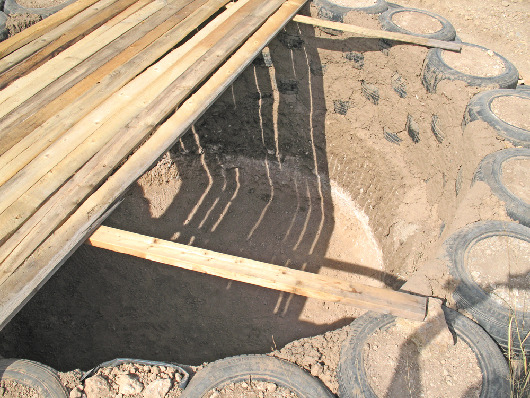 Mud infill and temporary roof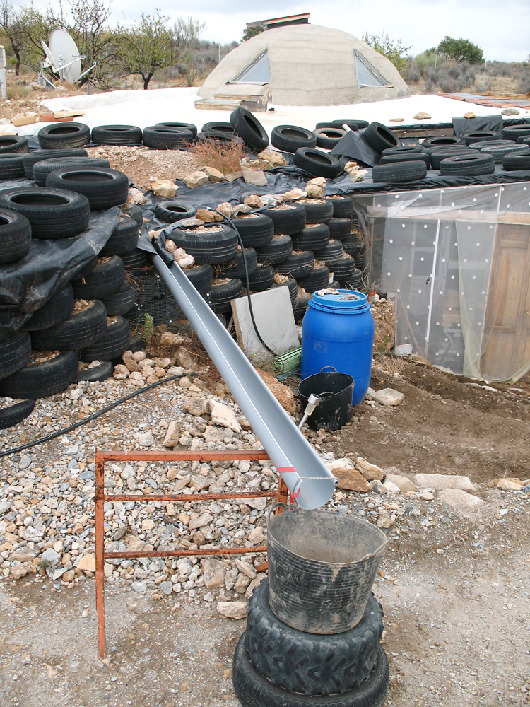 Heath Robinson guttering!
Did I speak too soon? 3am that moonless night the heavens opened, luckily I woke up and heard the rain so nudged Dave and out we both ran to check what was happening. It was persisting down, in fact when we opened the porch door a flood of muddy water washed into the porch area soaking the rugs.
Outside there was a river running down the steps, the HR guttering was working a treat though and filling the bucket up very quickly so my job was to transfer the water into our 200ltr tanks - 2 were filled very quickly. Dave was doing the same with the 2,000ltr tank. The rain was coming so hard that the 1st stage filter couldn't cope and was overflowing so he was decanting into 200ltr tubs too. This all happened over about half an hour at the end of which we were soaked to the skin (even with waterproof jackets on). I tell ya, when it rains on the plains in Spain, it really does.
End of 1/2 hour of rain we had 2,800ltrs of water - oh yes, bring it on!
So, after our porch douche it was clear that our entry steps needed a little work. I spent the next day working on these while Dave pumped the water from the 2,000ltr tank to the 5,000ltr tank ready for more predicted rain. He also drilled more holes in the 1st stage filter to speed up the passage of water. And sorted the overflow pipe which was heading straight for the septic tank area - not a good situation.
There was a little leak finding and curing job to be done on the dome front window for me, out with the gloop again Laura.
And Laurien was happy to work on mudding the gaps in the battery house plastic tub walls - and a fine job she did of it too. At the end of her stay I asked what her favourite job was, mudding she said, no kidding. Actually I'm with her on this.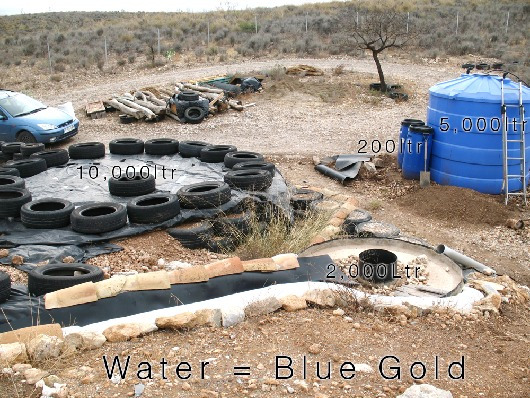 Blue Gold - bet you never thought water was so precious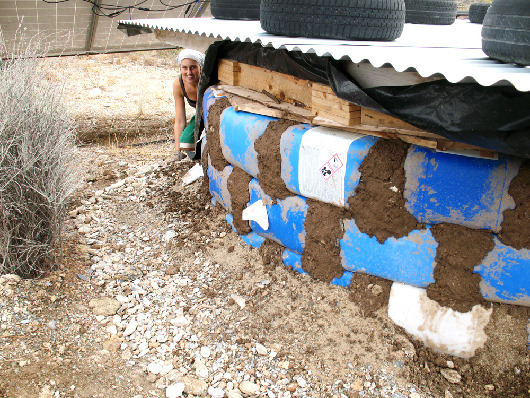 Stop hiding Laurien we know you love it
Not again
So, after our previous night of running around in the rain and a full day of work we were really looking forward to a good night's sleep. Not on your nelly! Almost to the minute at 3am down came the rain again with a huge crack of thunder to wake us.
Luckily after our days work there was no flooding in the porch, the 1st stage filter was coping and the overflow pipe was not getting any water to it, so all there was to do outside was to transfer the water from the HR gutter bucket to the now empty 200ltr tanks. I left Dave sorting this while I nipped inside to check on my window leak repair job. The previous night there had been 3 separate leaks in the same window, tonight there was only very one small one left - I count that as a reasonably successful repair. Water can be a very sneaky and difficult thing to stop, it'll find the smallest and most convoluted way to get in.
Anyhoo, after another 1/2 hour of full on thunder storms and sheets of rain we now have nearly 6,000ltrs of water in our various tanks. At the rate we've been using it this should last us until next Spring - yehey!


Sepp Holzer inspired steps
Sepp Holzer inspired paddy field steps
Have you ever seen photos of the paddy field terraces in the foothills of the Himalaya's? They're amazing as they curve down the hillsides, following the contours of the slopes, all filled with water and rice plants. Ok, so you may think this is a leap of my imagination, but don't you think our entry step re-working looks like a miniature version of those paddy fields all filled with the rain water from last night, albeit without the plants of course?!!
I've been reading Sepp Holzer's Desert or Paradise book recently thinking long term about what we could do with the land around us. His ideas for bringing drought ridden areas back to life by slowing the passage of water down using valleys and dams is inspirational. Our steps are a tiny scale version of this idea, and they worked a treat. All that water would've been in our porch if we hadn't done this.
Nuff for now
Ok, all that water talk has got me thinking about our kayak adventure in August. There's still loads to tell you about Laurien's time with us, but until then here's those memories of kayaking in the Cabo de Gata National Park - which stretches a kilometer into the sea.
If you fancy doing a spot of kayaking we'd definitely recommend Alex who runs 2 different kayak trips in the Cabo de Gata. Check out his web site Natural Kayak for more info.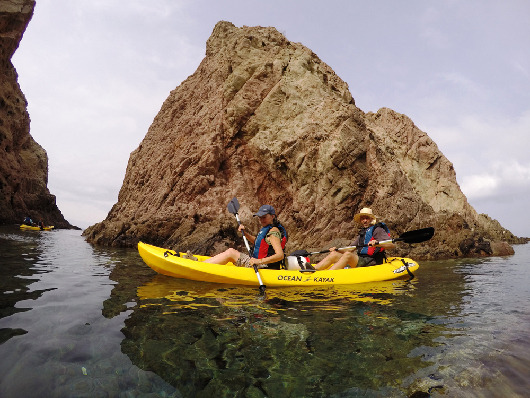 Concentrating on not grounding out on the rocks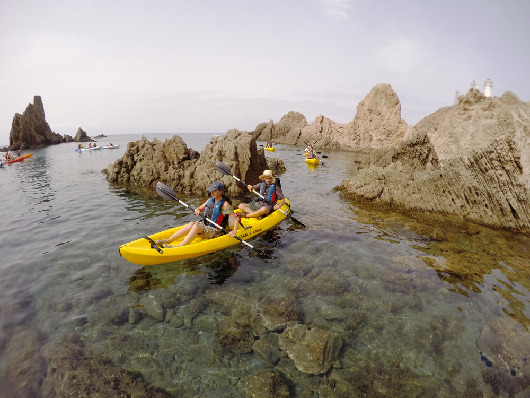 Bay of Mermaids, Cabo de Gata

Dave insisted on reversing us into this nook
Add your comment