Sep 2015 part 2
Ok, so where was I?
Ah yes, Laurien's love of mud. Below are a few pics showing her getting stuck in to some serious mud work (no pun intended, much).

Can infill work on the exterior of the water tank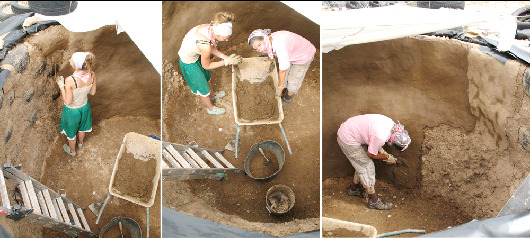 Laurien and I doing the final mud finish on the interior
Big boys toys
While Laurien was here we thought we'd give her the experience of having a bloomin big digger on site to see how quickly an area can be created for an earthship. Not that we're building another one, we're actually building a garage come workshop, but it'll be done in true earthship style with tyres and all.
We already had the driveway but needed to lower it so it's level with the garage entrance. Thinking about Sep Holzer again we also made slight dimps in it to slow down the movement of water.

Digging the garage area and driveway


A before and after
Front face almost finished
To stop water from sneaking inside via the roof beams we've put an extra overhang of planks extending out from the main roof. We've also added a structure along the front to allow us to add shading in the summer.
We got the acrow-props second hand and thought they would add a certain industrial feel to the 'ship. And they're good and strong as well.
At the mo we've covered the planks with plastic, but eventually we'll extend out the bitumen roofing material as well.
Thank you Laurien
It's been a few weeks since Laurien returned to college in Belgium. Already she tells us she's planning her next stage of earthship adventures.
Whoever she goes to next we think will be very lucky to have her. Thank you Laurien for bringing a beautiful energy with you, for your enthusiasm, your hard work and your caring nature.
So who's for jumping off a cliff?
Well, not me that's for sure. It makes my toes curl just thinking about it. But as for Dave, that was his birthday present which he finally got to take last Monday.
Ok, back track a bit. For those of you who know Dave you know he's really a bird in disguise. But since starting the earthship he's been grounded - not intentionally, just because time is limited. So, now we're in I thought it would be nice for him to find his wings again.
To fly his microlight he needs a runway, but to parapente all he needs is a hill, and there's plenty of those around here. So he's thinking of learning and asked for a tandem to see if he likes it.
Last Monday we eventually got up to Totana near Murcia to a flying school. After meeting them in a local bar very much at ground level, we took the winding road up through beautiful pine forests to the top of a very tall cliff. And that's where they jumped off. Well, not really jumped as the wind was keen that day and all they did was lift the chute and up and up (and up) they went. Ooohh, toes curling again!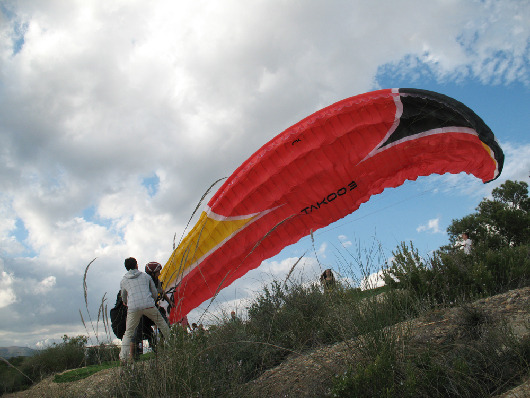 The guy in the foreground is holding them down!


Gorgeous views of Alhama de Murcia 400 metres up
Add your comment