Autumn 2015
Wow this autumn has been busy. What with water tank work, volunteers, trashy workshops and visiting family, it's flown by. Is it really Christmas Day tomorrow?
Here's a little summary of what we've been up to...
Water matters
Since moving to Spain the two things we've talked more about than anything else, or than we had ever talked about in the UK, are phones and water.
Phone lines, that is landlines as opposed to mobiles, are like snowman poo here in sunny Spain. It took us over 3 years to get one, and that's just for a standard line for phone calls, not a broadband line for internet as well, oh no.
The same goes for water. 13 years after being promised mains water to our cortijo, we're still waiting! Of course we found other ways to get water to it, we did in fact buy the cortijo with rights to a fuente, but then found that the seller had forgotten to tell us the fuente was dry! We've heard many tales of brothers and neighbours fueding over water rights - yes it's that precious here. I do apologise if you're one of the unfortunate ones who has suffered from the flooding in the uk recently. But water is the source of all life and it does matter, a lot, whether there's a lack or an over abundance of it.
So, finishing our 10,000ltr catch water tank has become numero uno on our priority list this autumn. And we're so close.
The roof is on and the inside is waterproofed (we hope). The next big job is to rework the roof catchment and first stage filter. This means increasing the height of the porch roof, adding more height to the tyre wing wall and creating a 'pond' area which will be the first stage filter. Oh, and we need to patch up the paint on the roof. Not much then...

Preparing the overflow hole before the roof goes on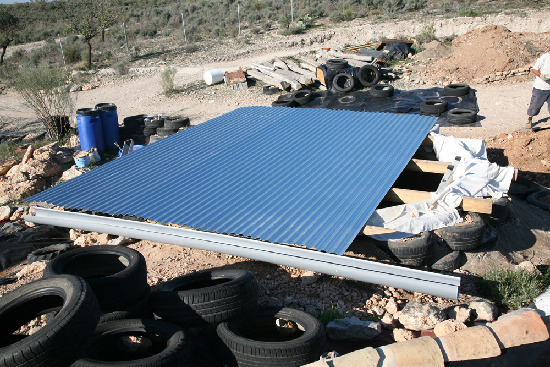 Roof tiles and guttering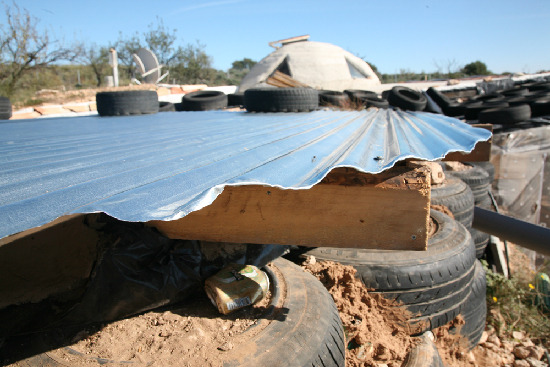 Edging trimmed and smoothed off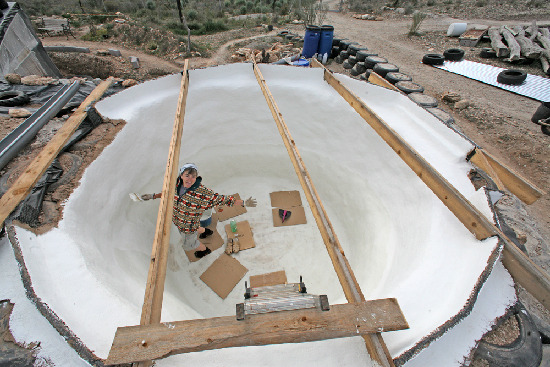 Waterproofed - yey!
Drink can roof
We've used the wooden crates that the batteries came in to create snug roosting houses for the chooks. Dave used the polystyrene packing and cardboard to insulate the inside and then made hinged sloping roofs which I waterproofed using drink cans.
I cut the cans into sheets and screwed and tacked them in place with cardboard underneath as extra insulation. Would you believe this small roof took over 60 drink cans? It's sort of working ok, but if I do it again I'll fold the ends under to stiffen the aluminium tiles as they're a bit flimsy.
Volunteers

Ania and Mateo are planning to build their own eco friendly home so when they contacted us wanting to come and learn from ours we managed to squeeze in a couple of days for them in between family visits and work.

We started them off with the basics - tyre walls of course. Then moved on to second stage can infill and lastly the final mud finish. That's a lot of different techniques over just 2 days. The final mud finish is probably the most difficult to get the hang of, it would've been better to have had 2 days just on that, but I think they appreciated all they'd learnt and have lots to practise on their own place.


tyre wall work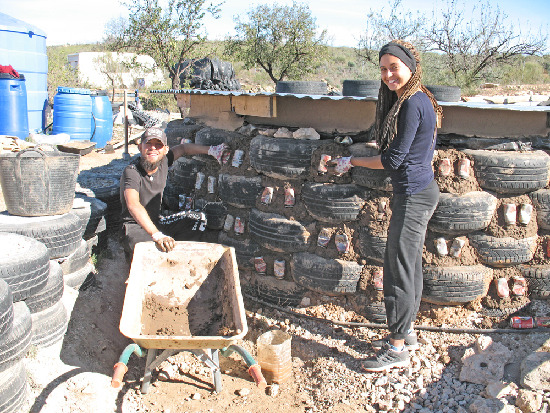 Second stage can infill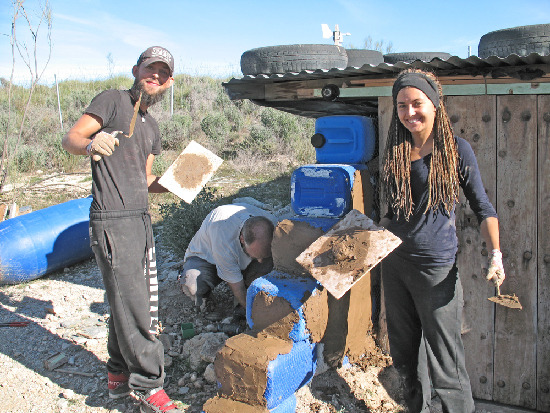 Final stage mudding
I showed them two ways with final stage mudding. The more formal way using plasterers tools and the 'roll a ball and slap it on' technique (technical term). They preferred the later which is way easier and a bit more fun!
Treasures from Trash
With all our wombling whilst building the earthship we seem to have earned ourselves a reputation as garbage gurus. I love that! So when Emma asked me to do a Christmas craft workshop at The Albar restaurant I agreed with enthusiasm and spent the next few weeks (in between water tank work) designing different treasures to make out of trash.
On the day Dave and I and 12 fellow wombles plus a mini womble - a womblet maybe?!!- gathered in the wonderful gallery space at The Albar in the presence of Finn Campbell's beautiful paintings. We got down to making stars, birds, icicles, snowmen, angels and rudolphs from drink cans, plastic bottles and wine corks.
The cute tin boxes will have to wait for another day as the delicious lunch The Albar made was beckoning and greatly appreciated after the 3 hour session - especially the lemon tiramisu dessert which I would highly recommend :-P
| | |
| --- | --- |
| Emma, me and Ann giggly after a fab lunch | |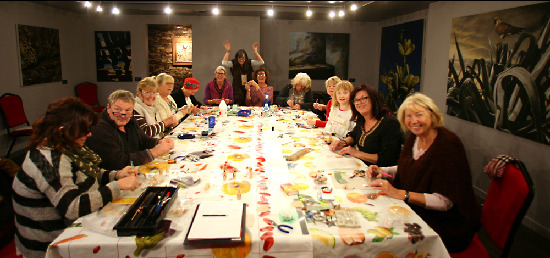 Make like rudolph the photographer said...so I did
Wishing you all a very Merry Christmas and Happy New Year
So that's it for another year folks!
Hope your dreams come true in 2016...
Add your comment