02 Feb 2016
So far this has been an unusual Winter, in fact, it seems like we've missed Winter and gone straight from Autumn to Spring. The number of sun days and the temperatures have been higher than normal. Unfortunately rainfall has been less as well - and we could really do with some reasonable quantities of rain. Although I can't help thinking that we may pay for such a temperate Winter with late frosts possibly? Hope not, the almond blossom is early and exceptional this year, let's hope a late frost doesn't scupper the crop.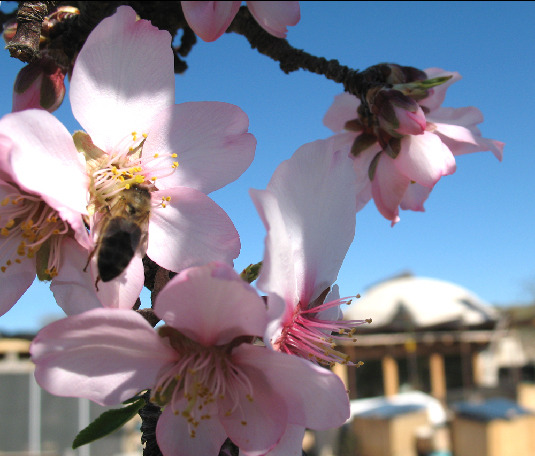 The bees are enjoying an early blossom
A slow start
After such a lovely rest over Christmas it's been hard getting back to earthship work. That water tank is still waiting to be finished. I know, I know, I said last time how urgent it is to get done, especially after our toilet had a bit of a funny turn a few weeks ago and lost us nearly 600ltrs of precious water - tccch!
Anyhoo, we did get back to it and started on the porch. The roof has been raised to match the main roof, which will mean the water from it can now go into the big tank (when it's finished).
I also laid more of the blockies which will support our reclaimed window/door frame wall that is going to make up the outside structure of the porch. Before you shout in horror why blockies? Why not tyres? Let me answer - space. This is quite a narrow area and tyres would take up just too much room.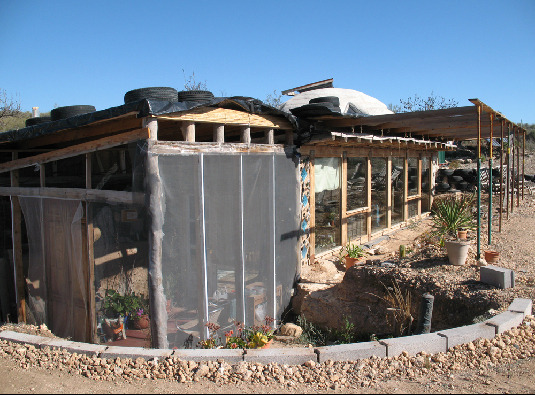 Extra height to porch plus block footings
I also did a bit of mudding on the battery house. The white area is the left over water proofing gloop that we used on the water tank - I couldn't waste it could I?!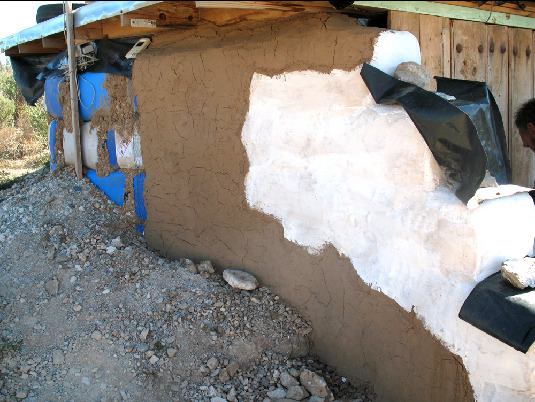 More Treasures

After we had so much fun at the Christmas Treasures from Trash workshop with lots of interest for a follow-on there are two workshops in the pipeline.

The first is on Monday 29th Feb at Girasol in Albox where we'll be making a bird mobile/windchime out of drink cans and natural wood. I'll also be demonstrating how to make the popular 3D decorated stars that we made at the Christmas workshop - I think a set of these in different sizes would make a cracking mobile as well.

The next is at The Albar, date to be confirmed, but probably the last Sunday in Feb or the first Sunday in March. We'll be making a set of drinking glasses out of beer or wine bottles at this one.

If you'd like to book into either of these workshops drop me an email or contact Claire at Girasol or Rachel at The Albar. Spaces are limited so get in before we're full :-)
Time for Tea?
Lastly I thought I'd show you a taster (no pun intended) of the art I've been creating lately... onto tea bags.
My two favourite types of bag to paint onto are Clipper Organic Redbush unbleached bags and Heath & Heather Wild Blackcurrant. Apart from the teas being delish, the bags hold watercolour paint remarkably well.
I work from my own photos and do sketches first to get familiar with the subject. The bee and almond blossom sketch below is waiting to be tea bagged, although it's a bit intricate for such a tiny bag - need to get some super specs to do it me thinks!
Add your comment