May and June 2016
Creating shade
It's been a mad spring, not much rain, soaring temperatures, some days it feels like we're in the middle of July. Consequently, the usual flush of spring flowers and foliage has been a bit thin on the ground. Except for the retamas that is who have had a cracking spring and have been flowering their little socks off! I didn't get any photos as I was far too busy oggling the bright yellow flowers and sniffing their sweet scent, sorry.
So, back to earthship matters. Do you remember last summer we noticed that even though the sun was directly above us and not shining into the earthship it was reflecting off the hillock in front and bouncing the light and heat in? The solution, a simple structure using old acroprops and bamboo shade, it's already reduced the inside temps by 2-3 degrees C. And it's helping the plants on the hillock too, giving them a little relief from the scorching sun.
We're so pleased with how well it works that we've added an extra section to give the chickens more shade too.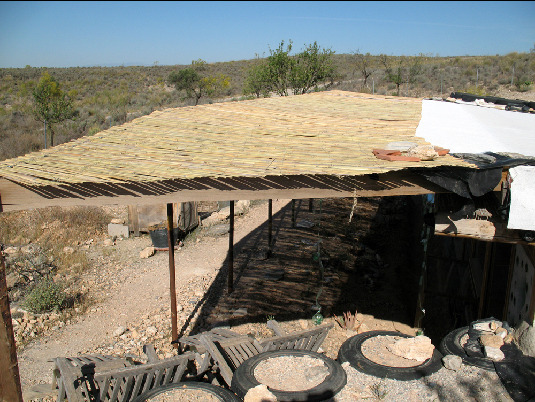 Sun shade across the front of the earthship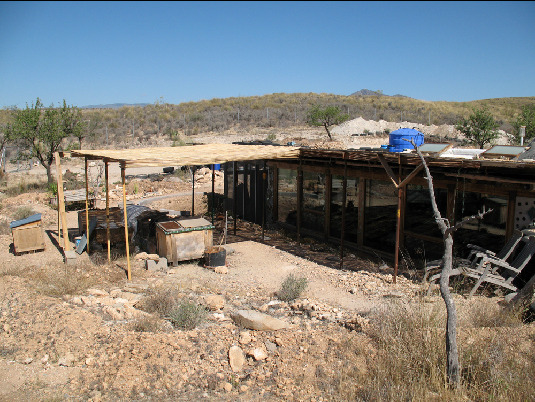 and the extra section for the chickens
Getting fleeced
Do you remember all those years ago (June 2009 to be exact) we went a sheep shearing near Chirivel? If not click here for a blast from the past.
It was a bit of a different scene than a uk shearing shed (notice the floor covered in sheep poo and straw), and the fleeces were full of it. But we took away 11 sacks with about 18 fleeces with full intent to use them as roof insulation.
Well, to my amazement, we've finally used them! I had almost given up hope. The battery house roof is the lucky recipient. And temps inside are now much more comfortable.
Seasonal changes
Ok you may notice a bit of a theme going on in this post - and that's because it's been just so darned hot!
In our attempts to reduce temperatures inside we also whitewash the dome windows with the stuff you use on greenhouses - no idea what it's called, probably whitewash! It works a treat and come the rains at the end of August (hopefully) it slowly gets washed off leaving clear windows to let in the suns heat for the winter.
It took me a couple of hours to do all 7 windows, not a bad investment in time each summer for the amount of gain we get from it.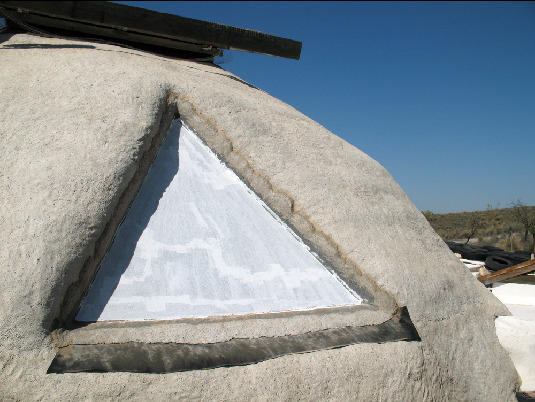 Whitewashed dome windows
A little helping hand
Trying to get trees established on our sun baked, wind swept, thirsty land is a challenge not even Monty Don would want to take on me thinks.
But after the visit from the permaculture gurus Josef and Jens of Krameterhorf fame who said the most important thing to do is create wind breaks, we did just that.
Back track a little - soon after moving in we planted 4 saplings - a green fig and a purple fig grown from rooting branches, and a nespera and carob grown from seed. I nurtured these trees in pots for years waiting to plant them. The green fig died soon after planting, sob, but the other three are struggling on. In fact we actually had some fruit from the nespera this year. But they need help.
So, using our stash of trusty palettes we rigged up a three sided windbreak with palm leaf sun shade on top.
They have 2 different hairstyles depending on the height of the trees. and we had to do a little modification after a freak gust of wind blew one over. But they seem to be working.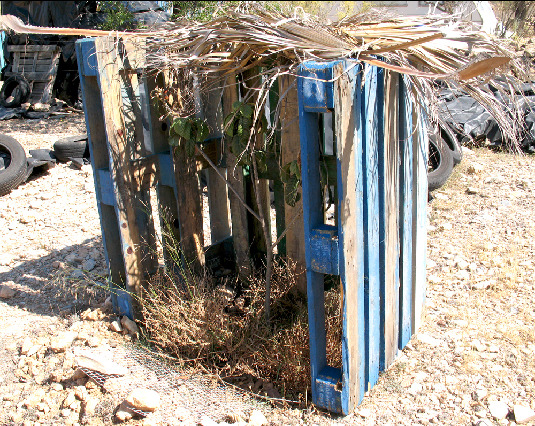 The nespera hiding under it's very own thatch!

A freak gust of wind lays the figs protection flat out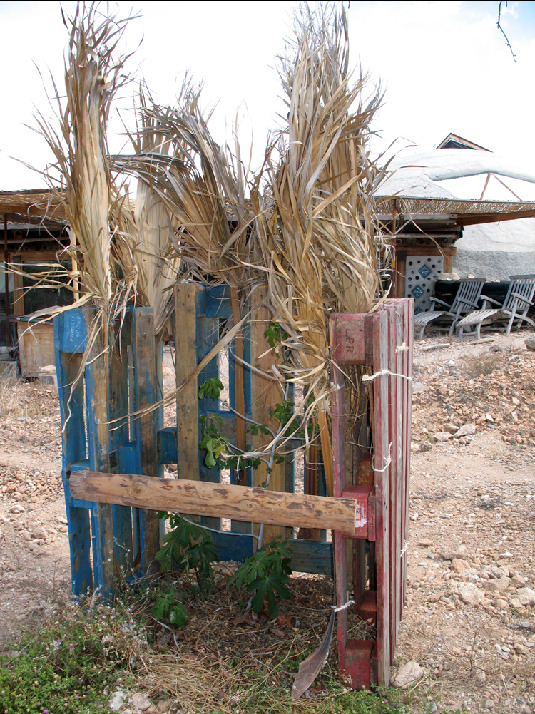 The mohawk thatch with modification for the 2 taller trees
That's all for now folks!
I still have masses to tell you, but I think that's enough for now. Tune in next week to hear what else has been going on in earthship land during May and June.
As a parting treat say hi to this little Nosed Grasshopper (Acrida hungarica) who's been hoppin' around our driveway, cute eh?!
Add your comment