8-12 Oct 2011
Busy October
Sorry for not keeping up to date with news on our build, it's been a busy October.
8-12 Oct
Simon, who's studying in Barcelona, came to stay for a few days. He helped Dave on the East side of the greenhouse roof, the part that joins the square roof to the round roof, needless to say it's complicated! Above shows them fitting the beams. Below shows the nicely carved uprights.
My job
After the digger 'reworked' our entrance ramp it needed a step or two adding so we can get in and out safely. That was my job... I also took some photos of the 'ship from behind now that some of the berm is complete - it's disappearing into the landscape nicely me thinks.
Geodesic dome
Then came the exciting part - construction was started on the geodesic dome.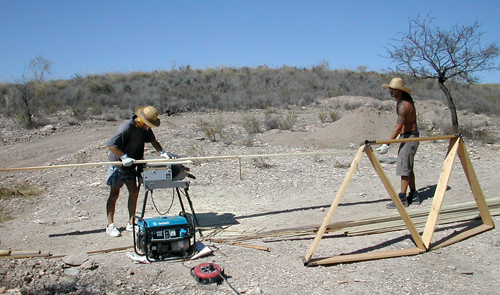 First the planks were cut to the same width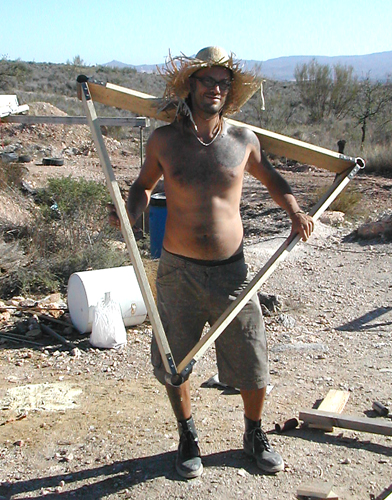 Then into three different sized lengths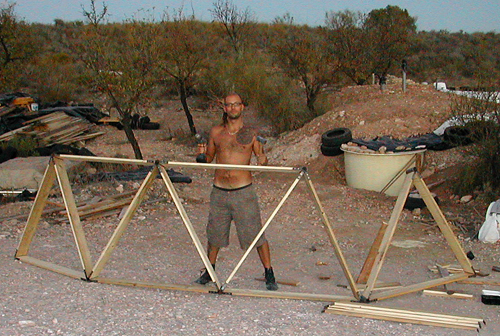 Boraxed and joined together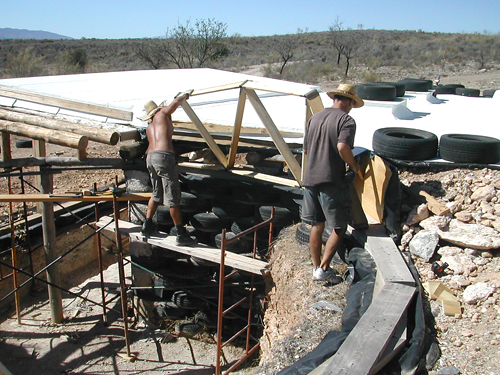 And finally put into position
It was at this stage that Dave noticed something wrong - it wasn't fitting as expected. He then realised that instead of starting on the 2nd row in the diagram to make the shallower dome we were after, they'd started on the first row. After a frustrating morning working this out, it was put right and refitted.

Phew - it fits!
Caricatures
I've always liked looking at faces and sometimes drawing them. I tend to do them from photos because I like to take my time really looking at the features. Recently I've been practising quick caricatures, also from photos but eventually I'd like to do them from life. Here's one I did of Simon, he has a good face to caricature.