14-15 Nov 2012
I was beginning to despair a little after last week. How long is it going to take to get this dome waterproofed?! But, this week I worked out a way to get the fidobe and papercrete on a bit quicker. It's still a long job, and all the while the papiermache keeps getting blown off, ho hum.
In the 1st photo below the grey section is what I did last week. The brown section is this weeks work. By the time it was finished with the grey papercrete (last 2 pics) I'd done almost twice as much in the same amount of time.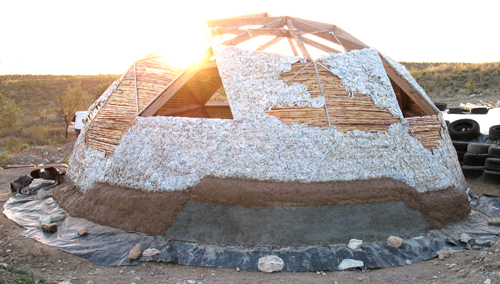 The brown layer is the fidobe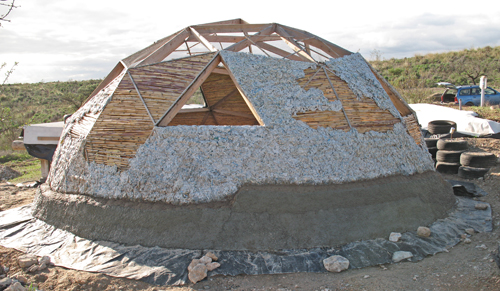 The thinner grey layer is the papercrete
The mixes that we've decided on:
Fidobe/Padobe
2+ sifted soil:2- cork chips:1.5 shredded dry paper (all by volume)
Put the cork in the mixer 1st with water. Mix in the soil. Lastly add the paper. We're doing a 15-18cm layer of padobe for insulation.
Papercrete
1 sand:1 soaked shredded paper:2/3rds cement (all by volume)
Sand in mixer first then paper. Mix well. Add cement and water - to consistency. A 2cm layer of papercrete seems to be forming a strong weatherproof outer layer. We'll see...