8-9 Nov 2012
Windy Miller
I was so pleased at how the papiermache stood up to the rains that I forgot all about the wind. This week we've had some fierce winds and when we turned up this is what we found - sections of papiermache ripped off the dome :-((
So, it was full on with the next stage - insulation and waterproof layer.
You saw last week that we tried tying sacks on. This week we're trying a mix of mud, cork chips and papiermache in a fidobe type mix. All this then covered with papercrete - cement, sand and paper - which will give a more waterproof, and hopefully, weather rpoof surface.
The only thing is that it takes ages to do so we might try a section with the sacks covered with papercrete which should be quicker.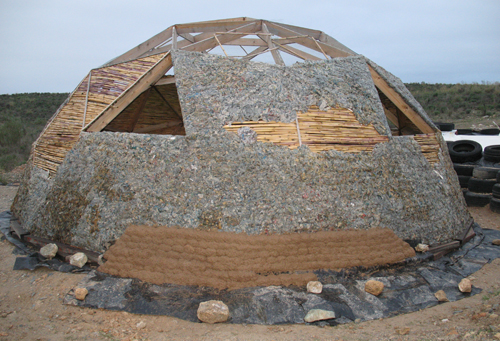 Above and below: Two layers of fidobe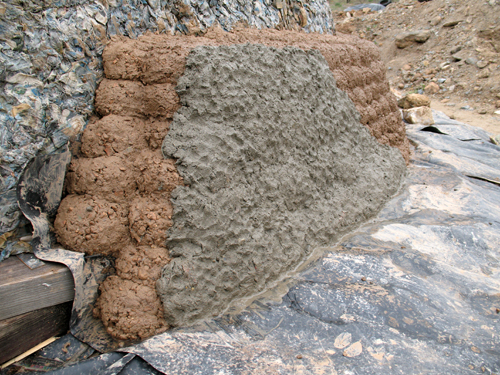 Covered with papercrete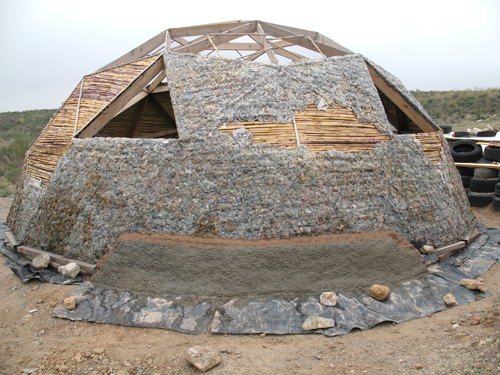 This section took me 10 hours to do!
While I was doing this Dave was working out how to waterproof the section of roof between the dome and the main hut area - well that was in between sifting mud and mixing the fidobe and papercrete for me. But more of that and pics next week...