19-20 Apr 2013
A feast of nature
We had more of the same work on the dome this week - preparation around windows, tying in cane strengtheners, securing the sacks with chicken wire and then papercreting. But in-between we also had a veritable feast of nature. Apart from the beautiful colours of the wild flowers, we also saw some wildlife that we haven't ever seen before.
Firstly, I was sitting quietly under an almond tree having a cuppa when a cuckoo flew into the tree right above me. First time I've ever seen a cuckoo, and although he took one look at me and flew off, we both saw him later on in the day and, of course, he serenaded us with his song.
Then while we were mixing the first batch of papercrete I looked out at a distant rock and saw a massive bird sitting on it with another flying above. Just as well we brought the binoculars this week as this was another first for us - a mating pair of eagles! Not sure whether they were Bonnelli's or Golden as my Mediterranean Wildlife books' photos are limited, but they were spectacular and definitely some sort of eagle.
And to cap it all off, Dave went to our outdoor metal bath to cut some cane and found this fella...
... he was about 70cm from nose tip to tail, was obviously molting a layer of skin and obligingly stayed absolutely still while I took photos. We weren't sure if he'd got stuck in the tub so we put a plank of wood in and later Dave saw him use it to climb out.
Btw, I'm saying 'he' all the time, but I've no idea if the cuckoo and lizard where male or female.
Back to dome work...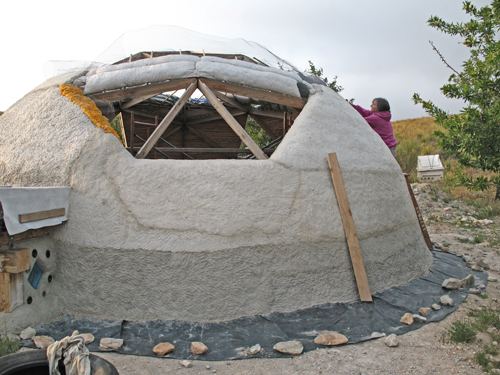 We tied in sacks above the front windows

Rejigged the sacks around the east window

and tied in cane strengtheners to the next row of triangles
Then it was time to papercrete
Gravity made it a bit tricky to do the underside of the big front window so we had to do it in two thin layers, leaving the first layer to dry for a few hours before applying the second. The funny shaped board is there for safety as it's quite an angle to work at and a long drop inside.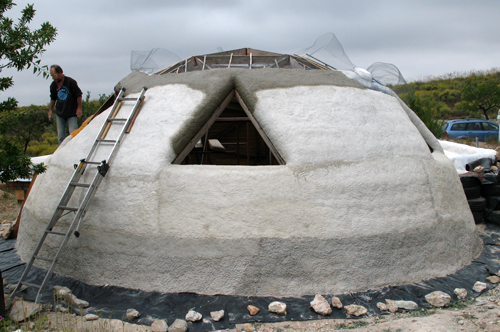 The east window