19 Jul 2015
It's July and it's sweltering, so we've slowed right down on earthship work.
This is the first year since moving to Spain in 2002 that we've been down the beach more than once in a month, in fact some years it was only once in the whole year!
We've had lunch out, paddled in the sea, found charming chiringuitos on Vera Playa and fine dining on our doorstep in El Pilar. I have to say it feels like we've had a week's holiday. I love this earthship living ;-)
But more importantly, yesterday we sampled the unique (and possibly soon to be extinct) environment of the Rio de Aguas...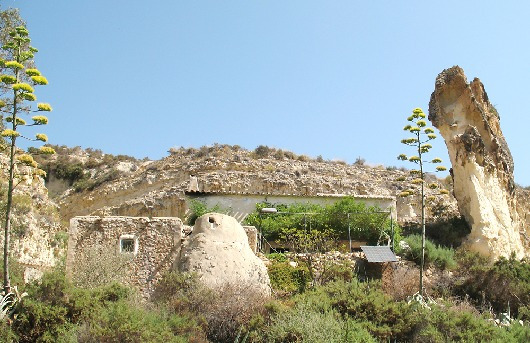 Jacki's charming finca with stunning wave rock
A trek along the Rio de Aguas
After setting up the petition to save the Rio de Aguas and promising Jacki that we'd visit her small holding we actually made it there yesterday. Picture this...
We're driving up a single lane track, to our left there's a field of corn taller than a person. Slowly emerging from the top of the field I see a beautifully tanned, slim woman pushing a wheelbarrow full of courgettes. She ambles up the track ahead of us, bare back (she's topless) and long tanned legs a testament to the work she puts into her small holding. Yes, we've come across Jacki in her fields! I wish I hadn't been driving because that photo would've been a classic!
Jacki supplies about 60 people in the area with the most delicious organic (or 'clean' as she describes it) fruit and veg. Her small holding is irrigated from the Rio de Aguas and it's levels have been dropping seriously over the past year, but more scarily, have all but stopped over the last 2 months. When I collected our veggie box from her in Sorbas a couple of weeks ago she was holding back the tears as she told us that this may be the last box we can have because her water source had stopped flowing. Luckily since then a trickle has come back, but how long will this last?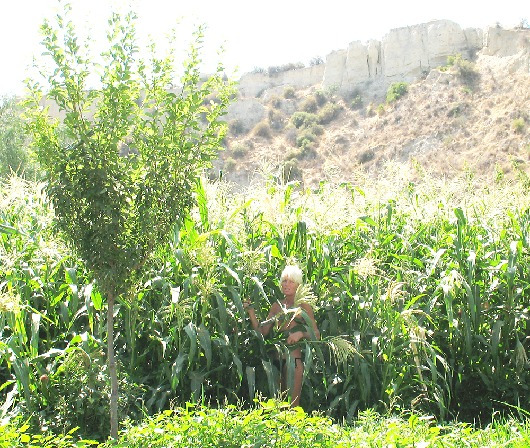 Jacki being discreet in her corn field
After storing away the courgettes in her root cellar come semi-earthship, Jacki gave us a tour of the farm.

It's so nice to see where our fruit and veg come from and you can feel the love this small holding gets from Jacki. This special orange variety of tomato is bursting with it! And her happy chickens all look healthy and well cared for, if a tad unusual in some cases - Dave fell in love with this little fluff ball, a white Silkie Bantam so Jacki tells me, I want one says Dave!

I just looked up the Silkie Bantam and one of the descriptions made me laugh - "They're the lap kitty of the chicken world, complete with hair-like plumage and an incredibly sweet temperament. We have heard it said that Silkies are like a "flock" of kittens"


Oi Dave save some for me!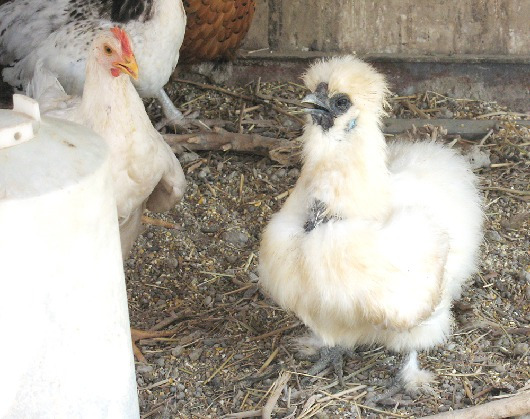 So sweet the Silkie Bantam
Then it was time to walk up the valley along the Rio.
Ion, Jacki's son-in-law and Calma, Jacki's young daughter eagerly led the way. Ion is running the Facebook page Wildlife of El Rio de Aguas Spain and was out early that morning looking for butterflies to record. He takes beautifully detailed photos and movies of the wildlife so I was keen to find out what camera he uses as I'm sure it's time to upgrade mine ;-)
Soon we came to the first 'waterhole' which was easy to walk across, and lovely and cooling on such a hot day. Ion explained to us how the water levels are half what they should be at this time of year and although the water was cool and refreshing today, a couple of weeks ago, because the rio had all but stopped running, the temperatures had increased to over 21C. A few more days like that and they would've stagnated and the wildlife would start to die off.
A little further up the track and through some very thickly growing rushes, oleander and bamboo Ion and Dave walked through a wasps nest. Luckily Ion escaped unscathed, Dave ended up with one sting on his wrist, which without our trusty "stingstick" to hand, has now swelled all the way up to his elbow. Calma and I got out of the way pretty quick!
So where to now? Well, we back tracked a little then crossed through a very shallow part of the stream that should be a rio. Calma spotted a couple of water scorpions, tiny little things that apparently don't sting, even though they have a pointy bum stinger. We did a zigzag back across avoiding the wasp nest and were on our way again heading for the bigger watering hole.
I have to admit, I almost turned back a couple of times, this trek is not for the feint hearted and maybe would've been better done in long sleeves and trousers, but when we got there it was well worth it, in fact it was breathtaking.
We all immediately stripped down to our trunks and bikinis and wadded in. When I said breathtaking I meant in both ways, firstly a beautiful and magical place, but secondly the water was so cold after the heat of the sun that it literally took my breath away. What a way to cool down after a long walk!
After we'd all had a bit of a swim around and got dressed again the real treat started - the wildlife had gotten used to us and started to show itself. Ion spotted the baby Ibex in a crack in the mountains. We saw a rare and stunning Orange-winged Dropwing (thank you for identifying this for us Goyo), a delicate Large Red Damselfly and a very spectacular Emperor Dragonfly who refused to stay still to be photographed and must've been at least 8cm long with a massive head. Then a small flock of swifts and swallows started to swoop down to drink the water and catch, well probably those poor dragonflies!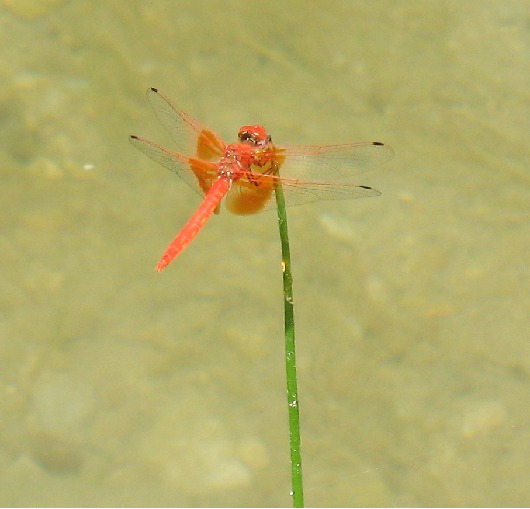 The rare Orange-winged Dropwing
We didn't see the turtles as they were another long walk through very thick vegetation to the next set of rock pools. The sun was at it's height, it was 39C in the shade so we decided to walk back to the farm. On the way taking more photos of the baby ibex whose mother had joined her by then.
Check out Ion's Facebook page for much better photos than I could take. Also, please sign and share our petition to save this magical and unique environment.
After buying some very special honey with ginger and a watermelon we left and started the drive back through the mountains past Sunseed's Los Molinas area also fed by the Rio de Aguas and also in danger of drying up.
Lunch at the Albar restaurant in El Pilar was long, delicious and we think well deserved. The stone cooked pizzas with handmade pizza dough were well worth the wait. The beer nice and cold.... did I say cold beer?.... what a good idea, that's all for now folks!


The Rio de Aguas - a ribbon of green in the semi desert
Add your comment