23 Sep 11
The big digger is back!
With loads of sand needed to protect the berm plastic and the final level of berm soil to be added to the back we decided that it was time to get the big digger back on site.
Below shows the berm before with a layer of sand under the plastic. With the sand layer on top of the plastic and finally with the soil layer being added and how we left it at the end of a very tiring day.
And here's where the soil came from - I've been so looking forward to the entrance area being opened up. The area being dug out will eventually be a terrace.
The bottom pic shows Dave putting in an extra acroprop where a wood column will go.
Water works
As you can see from the first pic below our attempts last week to direct water into the tank didn't quite work. So I built up the ground under the plastic and we've done a second temporary attempt at catching water. We're not sure yet how to do the final version.
Birthday treat
After visiting Rancho Luz del Sol last Easter when they had an open day, we (well, I) have been itching to have a ride. So, as September is the month of our birthdays, and Rancho Luz were having a special ride and bbq day on Saturday 24th we booked to join in as our (my??) birthday treat. As it rained on the Friday evening the schedule was changed slightly. It was a 1 hour ride to Bistro Bonito, a lovely meal and a 1 hour ride back.
I can't recommend Rancho Luz enough. We had a fantastic time, the scenery was spectacular, the horses were well behaved and the food delicious, and all for only €30.
They do a lot of work rescuing horses, ponies and donkeys in the area. Does anyone remember the awful photos in the press of Oscar, the horse found almost starved to death after his owners abandoned him? Well Erica at Rancho Luz took him in and cared for him and now he's a healthy, happy boy.
If you get a chance, pop along to Rancho Luz and join in one of their rides or give a donation to this very worthwhile cause.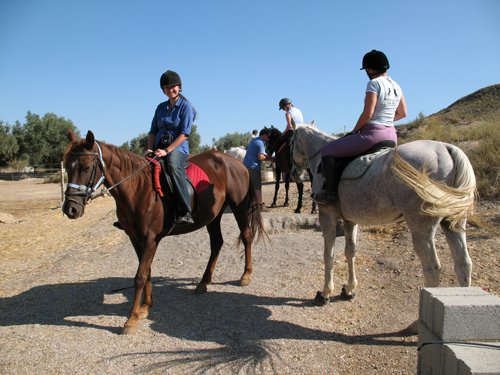 Above: Me on the left with Spice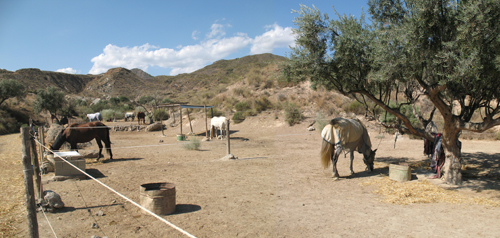 Above: A setting straight out of a western
I did a little sketch of Oscar to help raise money for his upkeep. Prints are available to buy at Colin the Card near Longos, Albox. Or email me if you'd like me to post you one.

A4 print = €10

A5 print = €5

100% of the money goes towards the upkeep of Oscar and the other rescue horses.