17 & 18 Oct 11
15 minutes of fame!!
According to Andy Warhol we all get our 15 mins of fame, and it would appear that this could be ours.
Back in the summer we were contacted by a researcher from ZDF broadcasting company, Germany's equivalent to the BBC. They were interested in coming to the 'ship to film it for a children's tv programme that focuses on environmental issues. We've been contacted by tv companies before with nothing happening so even though we were excited by the prospect, we didn't get too excited.
Then, after a few emails and calls to plan what they wanted to film, they arrived!
Now I'm normally quite shy when it comes to photos being taken of me, so imagine my surprise at how comfortable I felt in front of a huge tv camera. I can only put it down to how good the team were that came. Eric, the presenter of the programme, and Dirk, the director, both have a lovely way of putting you at your ease. And Michael, the cameraman, with Sven, the sound man on this project (he's also a cameraman) were very unobtrusive. All in all it was great fun, so much so that although we'd planned for Dave to stay on Monday night for more filming on his own on Tuesday, I couldn't resist coming back and joining in for more.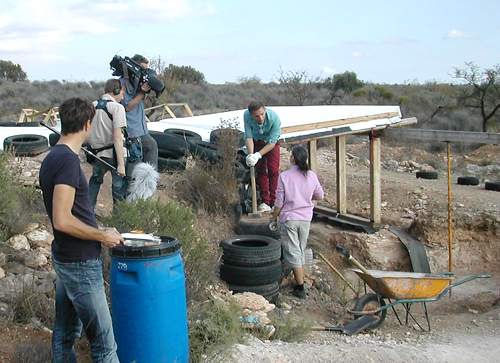 We started Eric off collecting tyres from the local garage and empty drink cans from the bar.

Then when we got on site we were filmed showing him around the 'ship before getting stuck in to his first tyre thumping session.

All this took most of the day, which hadn't started as early as planned because the cameras had been lost on route to Spain - thanks Iberia.

As the sun was going down I headed off home to sort out the animals and Dave stayed to see filming of the difference in temps between the outside and inside, which by the morning had reached 7 degrees. They also filmed Eric and Dave doing the can infill in the tyres.
Refreshed from a nights sleep full of dreams of stardom (hee hee), I set off the next morning with the same clothes on (for continuity) and headed back for more.
This morning Dave was filmed showing Eric the roof water catch system. As with all the other filming, it was an eye opener to see how one scene is filmed from so many angles. I'll never watch a show again without counting the number of shoots it must've taken to get it!
Finally we finished off by going through the 4 stages of water use inside the 'ship. I managed to get back in front of the camera for this - oh to have been a presenter on Blue Peter!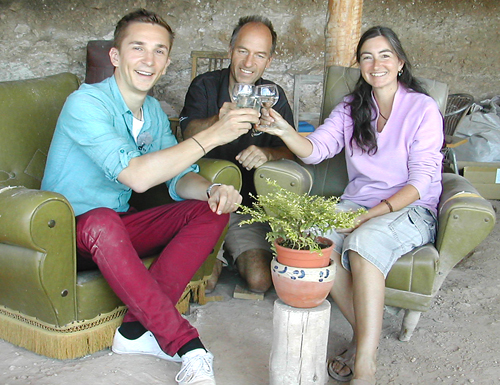 Drinking the water collected from the roof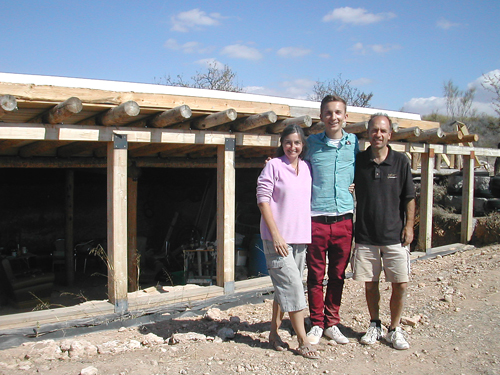 Time for some final photos with Eric
We can't wait to see the finished programme. It'll be aired on ZDF on 12th Nov at 10.35am and on KIKA on 13th Nov at 7.25pm.
After this it will be available to view on their web site, we'll post the link up here when we get it.
All for now darlinks, must go and dust down the shelf for our Oscar ;-)
Here's the link to watch the programme online, when you get to the site click on the arrow on the pic of the boy: ZDF TiVi