28 March 2016 continued
Sorry for my tardiness in keeping up to date, but we are living in the slow lane!
So, apart from all the lurve going on around us (see previous post), Dave and I got down to some serious tyre pounding and mud hauling. Well, Dave did the tyre pounding while I did the mud hauling - supplying him with the mud needed for the tyre work.
Yes, at last we've made a start on the land-shaping needed to re-direct rainwater from the roof to the big water tank. But don't get too excited, it's not finished!
| | |
| --- | --- |
| | Metal mesh filled with mud |
First of the jobs was to take away all the temporary guttering and fill in the exit gap. As with all half tyres we did this with metal mesh screwed onto the surrounding tyres, lined with plastic and filled with mud.
Then the mud hauling began...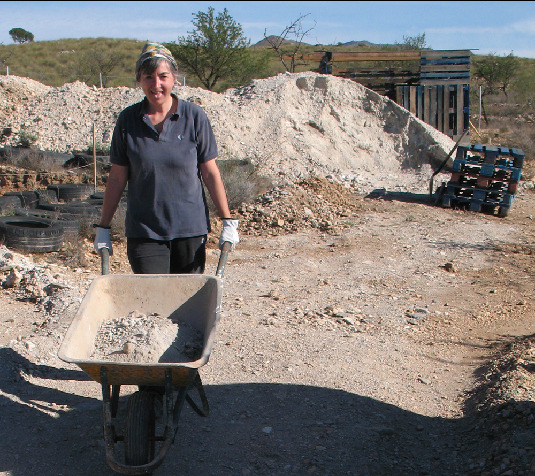 A mountain of mud to haul
And the serious business of building up the tyres to hold the mud berm and filling in the berm. We spent 3 days on this, with the last day making sure if it did rain the water would still go into the small tank.
Apart from wheelbarrowing the mud from the garage area, it also had to be decanted into buckets to be hauled up to the roof area, finding muscles we'd forgotten we had!
After all that hard work we did get some respite when my big bruv and his partner came for a visit.
It was lovely to see them and even though the sun didn't shine much I think they enjoyed (and needed) the break.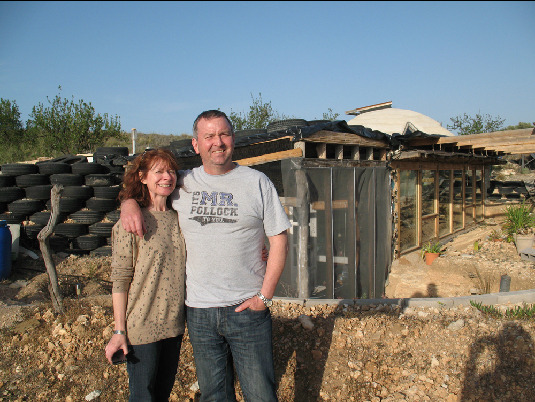 Julia and Colin at the earthship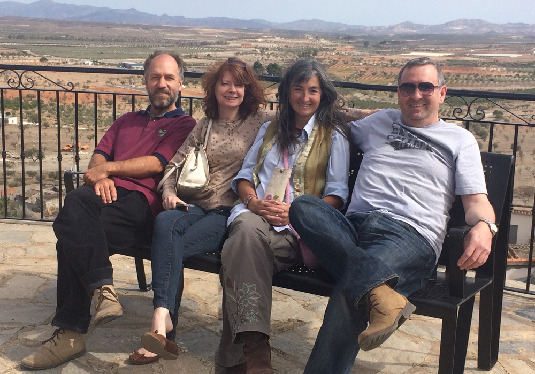 At the view point in Uleila del Campo
Knitting patterns
For all you knitters out there have a little look at the recent patterns I've been publishing. Some are for sale in my KnitaFrolic Etsy shop, but you can get them here free or for a donation if you prefer. I'll be adding more as time goes on so keep checking back if you're a knitafrolic like me!
The picture is of a friend wearing one of my handmade ruffle scarfs. I'm working on a pattern for a similar scarf using alpaca as we speak.
Treasures from Trash
And last but not least the Treasures Workshop at Girasol. We made gift/jewellery boxes from drink cans. Learning scoring and folding techniques, plus some pretty nifty embossed decoration. There'll probably be another class soon on this same theme if you fancy joining us.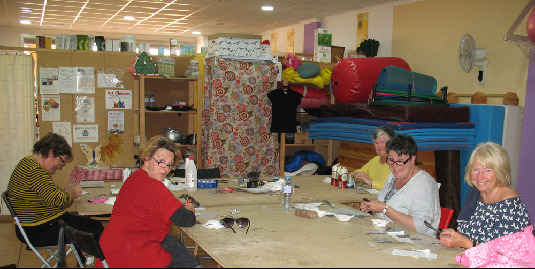 Happy womblers
One last thing...
As I said in the previous post, the Woodchat Shrikes are back, which is lovely for us. But they do seem prone to flying into the big windows of the earthship. A few years ago we found an adult, and last year I found a baby shrike. Then a few days ago a baby lark stunned himself flying into them. So, I've made spiral hangy things out of plastic water bottles to try and deter them. They spin and twinkle in the slightest breeze, and bounce and dance in strong winds. Fingers crossed they'll work.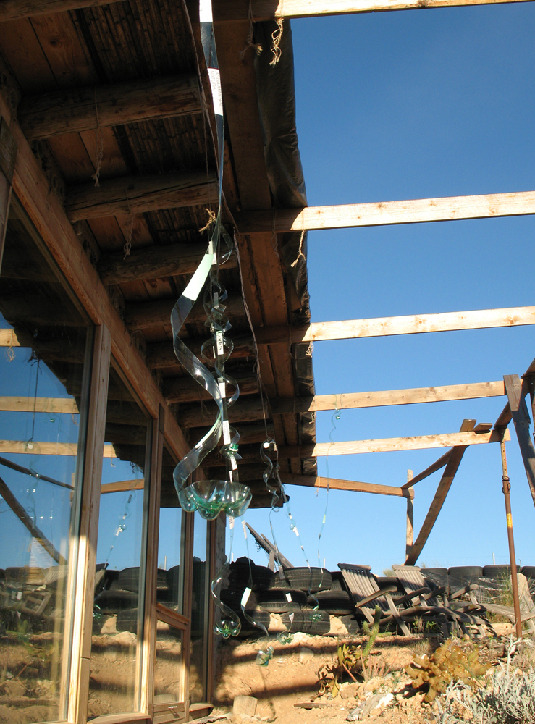 Plastic water bottle bird deterers
Add your comment