2 Jan 10
Windy, cold, sunny, hot and wet
The past two weeks have been, erm, interesting weather-wise (here in Spain as well as in Northern Europe). We've had -6C temperatures at night, +25C by day, winds to blow your insides out and enough rain to fulfill an Earthshippers requirements for months.
I read somewhere recently that there's no such thing as bad weather, just inappropriate clothing. Well, that was definitely the case for our earthship with it's thin plastic roof covering held on by tyres and planks of wood. This is what we saw when we arrived at the 'ship this morning - eek!
And this is the result of the rain on the whitewashed ceiling planks below - sob!
We dutifully started decanting the pools of water that had collected in the ructed up plastic onto the satsuma and other trees. But after topping up our two water butts gave up and tipped the rest, including ripped plastic, into the round room hole. There was a waterfall of water which was strangely satisfying to hear and made us think how much water we'll be able to collect when the roof is finished - bring it on.
After much discussion, we've decided to build the cricket (that will help the water flow off the roof) now before putting the insulation on. The books say to put it on after, not sure what difference it makes, only that by having it on now hopefully it'll help stop the puddling.

Left is the startings of the construction
While Dave was doing the cricket I got back to treating the planks (how has Dave managed to get out of this job AGAIN?!). We'd already mixed up a half kilo of the borax powder with water before leaving home so I set myself up and got painting. Eight planks of raw sawn wood done with two generous coats both sides and edges took the half kilo, almost to the ml. It's so much nicer to use, there's hardly any smell to it and I'm not so worried about splashing myself or the floor. Don't get me wrong, borax should be used carefully and I've never been a splash it about painter anyway, but somehow the knowledge that it's not giving off seriously noxious fumes or made from petrochemicals makes it sooo much nicer to use, and hopefully better in the long run too.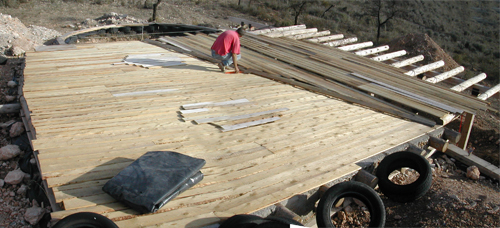 By the time Dave had pinned in the end beam (which he's been waiting to do for months), laid out the wood for the cricket and worked out how to construct it it was time to pack up. So we covered the cricket with planks then covered the whole lot with a new piece of plastic. Fingers crossed it'll work as the weather report for next week is rain and more rain.