7-8 Feb 2014
February, the month of the almond blossom
I've said this before and, no doubt, I'll say it again, I just couldn't get through the winter months without the almond blossom. It starts in late January and lasts (the higher up the mountain you go) until March. It is a sight I would recommend anyone to see. I really don't know why the tourist boards in this area don't make more of it. In fact, would you believe, some authorities are allowing farmers to rip out their almond trees - that don't need irrigation and flourish in this semi-desert climate - to plant water hungry olives that need to be irrigated with the already depleted supplies of ground water - MADNESS!!!
Maybe I'll start my own little almond tree appreciation society, ha ha.
Anyway, enough of the blossom for now, back to walls and floors. All there is to say is that we plod on. It is actually a really nice job, it just takes time. I guess we'll give up hope of being in the 'ship this winter and simply enjoy the process. Not much else we can do and it would be a shame to rush or bodge this last stage as it will be visible for years to come.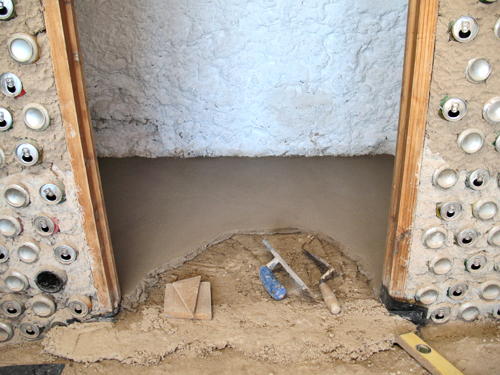 Finish layer on utility room floor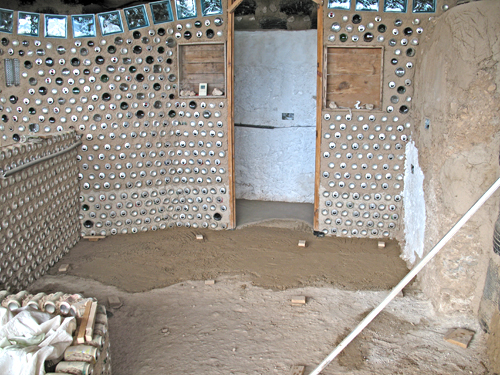 Leveling layer in kitchen area
And that's it, no more to say about the earthship, so back to the blossom!
Below is a piccie of it through the triangular window...
...and here's a link to my instagram feed where you'll see more images of the blossom, paintings and earthship pics, oh and the odd few pics/sketches of our lovely cats.
Add your comment