05 Jan 2015
I can't believe how fast 2014 whizzed by, looking back it was a big year for us, the year we moved into the earthship. But it was also the year I lost a very good friend to cancer.
It was the year I set up KnitaFrolic and the year Dave and I turned 50 - yikes!
What will 2015 hold for us I wonder?
Back to it
After a nice, quiet and very snuggly Christmas enjoying the earthship we got back to the rhythm of earthship work this morning by bashing in 5 fence posts. The tool we had made up has had to be repaired a couple of times because the ground is so hard, in some cases I'm sure we're going through solid rock. It really gets your teeth chattering sometimes. The metal man in Sorbas has now made it into a solid bar all the way through and soldered in the cross-bar. Without the cross-bar to help us turn the bar as we're pulling it up there would be no getting it out of the ground. Which is a good thing really, lets hope the fence posts will be as sturdy.
Tree planting
I don't know if you remember, but about 2 years ago I planted a number of tree seeds in pots. Not all survived but we do have a few very healthy looking specimens. This nespera (loquat) tree being one of them.
Dave dug a hole for it last week which we part filled with the dirty sawdust litter from the cats trays - in the hope that this will feed the tree. We planted the tree yesterday, making sure to put normal soil all around the roots so they don't get burned by the cat pee and poo!
It's dug in a little to create a well to catch any water and we've put a few quartz rocks and a metal grill around it as we think these might help to catch dew. We're going to be watering it with shower water until it's established.
Walking the cat
Tizzy is the only one out of our 5 cats that shows any interest in going out. I think all the others are quite happy to lounge around the earthship... and who can blame them?
We took Tizzy for a few long walks over the christmas hols, she's used to her harness now and trots along beside us like a dog, or rather leads us where she wants to go!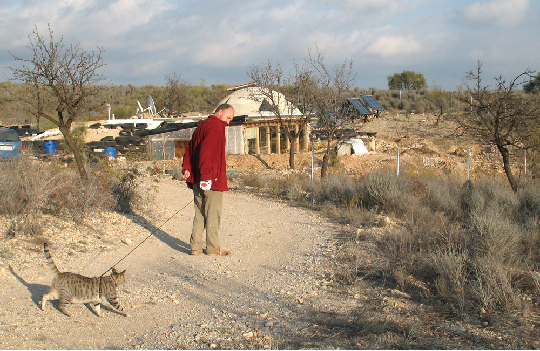 Tizzy not wanting to go home yet
| | |
| --- | --- |
| Tizzy leading the way | Freya enjoying earthship living |
Snuggled into the landscape
I love the way the earthship snuggles into the landscape.
Natural jewellery
Whenever we go for walks around the land I always come home with some piece of twisted wood, or a particularly nice piece of quartz I've found. I've been meaning to do something with them for ages. So, at last, a few weeks before Christmas, I had the time to make these brooches and pendants. The wood is mainly wild thyme, the quartz colours range from deep orange through pink to white, and they're all wrapped up in copper wire. The brooches have a little pin on the back for attaching to a jacket or scarf and the pendants come with a leather thong. I can also do fabric thongs for anyone who prefers. No two are the same.
I might be listing them in my Etsy shop soon, although I won't be making many as I believe the quartz imparts an energy to our land so wouldn't want to take too much of it away.
There's also a couple of crotched brooches in the photo too.
Would love your feedback...
Add your comment