9-12 Jan 2014
Another 4 day stint at the 'ship and loads done, in fact we had a mini digger on site so mountains were moved!
Mick turned up bright and early on Thursday morning and got stuck straight into reshaping the sunken terrace area near the front doors. We'd booked him for two days to do a number of jobs;
reshape sunken terrace
dig holes for septic and grey water tanks
dig out area for battery house
But this first job would govern how many and what would be done. So, after a couple of hours he'd done a lot of digging, it was all going very well. Soft-ish soil, no big rocks - we were rockin'!
He quickly moved onto digging out the area for the battery house, which was also done in good time so we sneaked in finishing the swale behind the dome. Sooooo, we made the decision to put the septic and grey water tanks in the originally planned position about 10 metres from the house which would require a 10m long x 2m deep trench to take the pipework.
Let me explain. When we first booked Mick we were going for the easy option of putting the two tanks under the sunken terrace area because we thought the ground would be hard to dig. Do you remember back when we were putting the tyres along the front face? The corner near the entrance was (and still is!) a huge piece of granite that Dave had to cut with a heavy duty grinder to get the tyres to sit straight. We thought there might be more of this granite lurking underground. But it didn't look like it so when Mick had finished the battery house we asked him to dig the trench.
It started well, he got about 5m along and all was looking good... then it happened, he hit a big rock that refused to budge. By this time it was 4pm so Mick went home promising to return with a hydraulic pick. And he did, and spent the whole of Saturday getting rid of that bloomin' rock!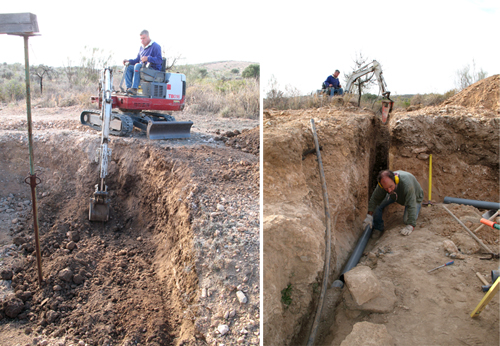 Reshaping terrace and getting rid of THAT rock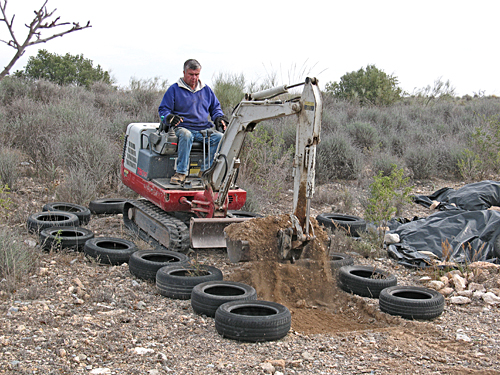 Starting to level the ground for the battery house

The finished area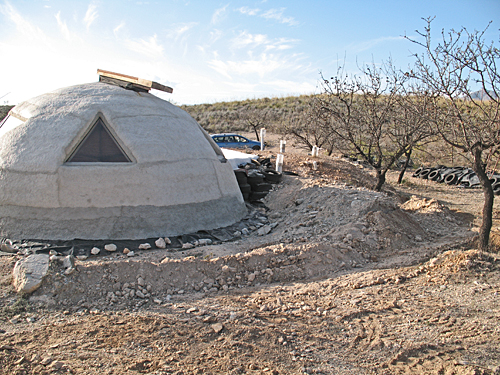 Finished swale behind dome
While Mick was ridding the trench of that rock Dave was preparing the pipework. By Saturday afternoon it was clear that we weren't going to get this job done before it got dark. So Mick very kindly agreed to come back on Sunday.
Another few hours on Sunday finished the trench ready for the pipes, and there are a lot of pipes. Dave had to make two trips to Sorbas to buy them. We have;
a 100mm blackwater pipe to the septic tank
a 40mm pipe to the grey water tank
a 100mm air pipe for heat exchange
and finally a 100mm pipe as a drain for the sunken terrace
Phew - that was a lot of plumbing which we all helped out with. Dave had the task of squeezing into the trench to do most of it, but he did send me down it a few times and Mick as well. It was very dusty and tight work.
But it's done, the tanks are in and Mick filled in the trench. After all that work it was a shame to cover it in.
As a final tidy up Mick made a nice big swale along the west side to redirect any rain water. We're hoping with this and all the other swales we've made our little 'ship won't be sunk again!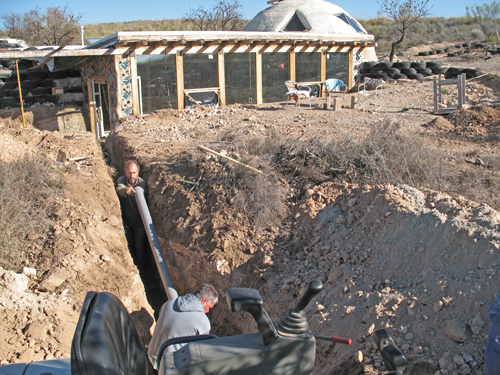 The trench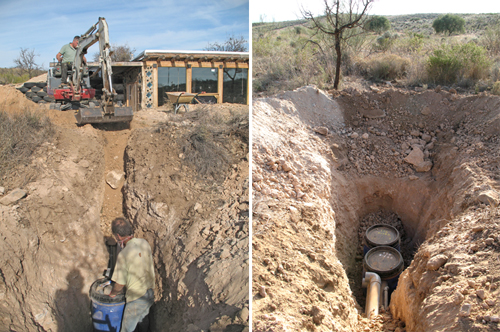 All pipe work and tanks in place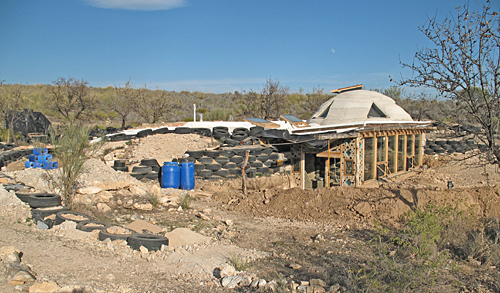 Nice big swale protecting the west side
More and more floor

While all the excitement with the digger happened outside, I plodded on inside with the flooring.

Firstly, I limed the wall in the bathroom where the toilet will go figuring it'll be much easier to do before the toilet is in place. Then I grouted between the floor tiles, adding in a little mosaic work as I went. Couldn't resist it, especially as I've been collecting these tiles and shells for years.

Then I carried on the tiling in the main entrance area. It's petering out into an all mud finish.


Bathroom wall and floor Tiles petering out to mud
New Art Blog
I've been wanting to start an Art Blog for a while now, so as it's the start of a new year I thought this would be the perfect time.
And as a little gift to subscribers of my new blog I'm giving away these printable calendars. Check out the blog or sign up from here to get yours.Tell me which one you want in the message area, you will automatically be subscribed to my newsletter and I'll email you the jpg.
| | |
| --- | --- |
| Tizzy and Roses uk calendar | Dark Angel Spanish Andalucia calendar |
Add your comment